Picket v. Dowdall
From Wythepedia: The George Wythe Encyclopedia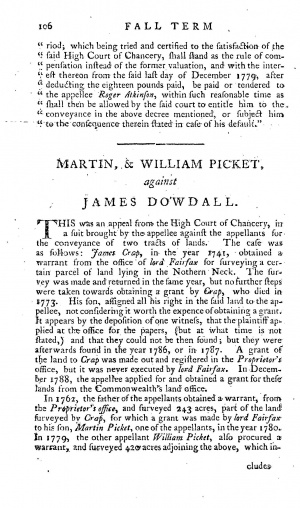 In Picket v. Dowdall, 2 Va. (2 Wash.) 106 (1795),[1] the court who had primary ownership rights.
Background
Dowdall sued Picket in the High Court of Chancery regarding the conveyance of two tracts of land. In 1741, James Crap obtained a warrant from the office of Lord Fairfax. The warrant allowed Crap to survey a parcel of land located in the Northern Neck. Crap made the survey and returned it in that same year, but no further steps were taken to grant him the land. Crap died in 1773 and his son, who had obtained rights to the land, assigned it to Dowdall without obtaining a grant for it. In 1762, the father of Picket obtained a warrant from the Proprietor's office for 243 acres which included the land surveyed by Crap. In 1780, a grant of that land was made to his son, Martin Picket. Dowdall requested the Court grant relief in determining who had primary ownership of the land.
The Court's Decision
Chancellor Wythe decreed that the defendants should convey to the plaintiff their right ant title in and to the land lying with certain bonds of the initial survey. Wythe was of the opinion that the grant eventually made to Dowdall should relate back to the time of the original warrant, since the Pickets had notice of Crap's original warrant and survey of the property. On appeal, the Court reversed the decision and dismissed the case.
See also
References
↑ Bushrod Washington, Reports of Cases Argued and Determined in the Court of Appeals of Virginia(Richmond: T. Nicolson, 1799), 2:106.