Nice v. Purcell
From Wythepedia: The George Wythe Encyclopedia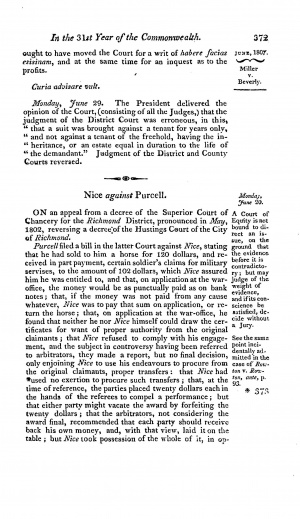 Nice v. Purcell, 11 Va. (1 Hen. & M.) 372 (1807),[1] was a creditor/debtor dispute.
Background
Purcell sued Nice in the Hustings Court of the City of Richmond. Purcell claimed that he sold Nice a horse for $120 and Nice paid Purcell with certain soldiers' claims for military services that valued to the amount of $102. After receiving Nice's assurances, Purcell went to the war-office to obtain bank notes from the claims. However, Purcell learned that neither he nor Nice had the authority to draw the money. Purcell requested Nice obtain the proper authority to obtain the money and even took Nice to arbitration. There was controversy concerning the arbitration award which seemed more recommendatory than final. Thus, Purcell filed his allegations in court.
The Court's Decision
The lower court dismissed the case which was then appealed to the High Court of Chancery. Chancellor Wythe was of the opinion that the evidence supporting the bill outweighed the answer. He also decreed that the arbitration award was void and Nice had no right to detain the twenty dollar deposit Purcell paid to the arbitrators. Chancellor Wythe reversed the lower court's decree and directed Nice to pay Purcell the amount of the certificates. The Court of Appeals unanimously affirmed Chancellor Wythe's decision.
See also
References
↑ William Hening & William Munford, Reports of Cases Argued and Determined in the Supreme Court of Appeals of Virginia: with Select Cases, Relating Chiefly to Points of Practice, Decided by the Superior Court of Chancery for the Richmond District (Flatbush, N.Y.: I. Riley, 1809), 1:372