Mills v. Bell
From Wythepedia: The George Wythe Encyclopedia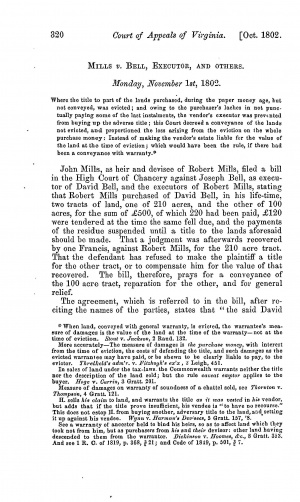 Mills v. Bell, 7 Va. (3 Call) 277 (1802),[1] was a land dispute case.
Background
John Mills, the heir and devisee of Roberts Mills, sued Joseph Bell, the executor of David Bell, in county court. John's complaint alleged that Robert Mills purchased two tracts of land from David Bell. One lot was for 210 acres and the other was 100 acres. The total cost of the purchase was £500, of which Robert paid £220 and withheld the rest until David made a title for the land. While awaiting conveyance, a man named Francis obtained a judgment against Robert for the 210 acre tract of land. Further, David refused to make Robert a title for the 100 acre tract or compensate him for the money he had already paid. The complaint prayed the court would order conveyance of the 100 acre tract, reparations for the other tract, and grant general relief. The County Court decreed a conveyance of the 100 acres and ordered David Bell's estate compensate Robert for the tract of land Francis recovered. Joseph appealed to the High Court of Chancery.
The Court's Decision
Chancellor Wythe upon hearing the case, affirmed that the 100 acre tract should be conveyed to Robert Mills. However, Wythe reversed the decree ordering David Bell to compensate Robert for the recovered land. John appealed this decision to the Court of Appeals who affirmed the conveyance of the 100 acres and reversed the decree regarding the residual acres of land. The Court decreed that David bell's estate had to pay Robert Mills' estate £28 plus interest for the loss of the land as damages.
See also
References
↑ Daniel Call, Reports of Cases Argued and Adjudged in the Court of Appeals of Virginia, 3rd ed., ed. Lucian Minor (Richmond: A. Morris, 1854), 3:277. George Wythe owned the first edition of this set.