Meredith v. Johns
From Wythepedia: The George Wythe Encyclopedia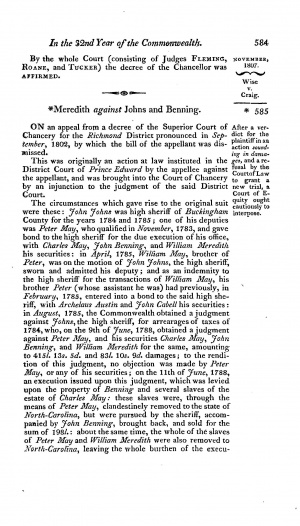 In Meredith v. Johns, 11 Va. (1 Hen. & M.) 584 (1807),[1] the court determined whether a Court of Equity could interpose on damages awarded in a Court of Law.
Background
John Johns and John Benning sued William Meredith in Prince Edward District Court. For two years, John Johns was high sheriff of Buckingham County. In November, 1783, one of his deputies, Peter May, gave Johns bonds for the execution of his office and named Charles May, John Benning, and William Meredith as his securities. In August 1785, John Johns was charged by the Commonwealth of Virginia to pay tax arrears. On June 9, 1788 Johns obtained a judgment to collect against Peter May and his securities for the value of the bond.
The Court's Decision
In May 1791, Chancellor Wythe granted Meredith an injunction to the judgment. Wythe reasoned that the damages of the judgment were excessive and Benning's demands were overvalued by the jury. However, in November 1791, Chancellor Wythe dissolved the injunction and reinstated a new trial after additional evidence was brought into the case. In September 1802, Wythe directed a Commissioner of the court make a report regarding payments due. Based on the Commissioner's report, Wythe, that same month, dismissed the case. The Court of Appeals affirmed the Chancellor's decree.
See also
References
↑ Daniel Call, Reports of Cases Argued and Determined in the Supreme Court of Appeals of Virginia: With Select Cases, relating Chiefly to Points of Practice, Decided by the Superior Court of Chancery for the Richmond District (Flatbush: I. Riley, 1809), 11:584.