M'Connico v. Curzen
From Wythepedia: The George Wythe Encyclopedia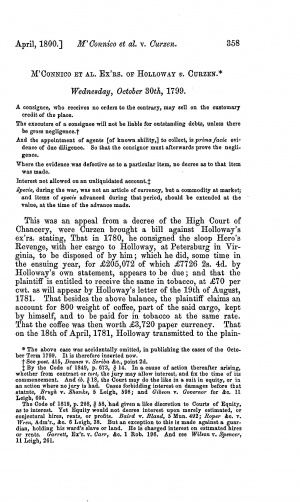 In M'Connico v. Curzen, 6 Va. (2 Call) 301 (1799),[1] the court determined whether executors of a consignee are liable for his outstanding debts.
Background
Curzen sued Holloway's executors, including M'Connico, in the High Court of Chancery. Curzen contended that in 1780, he delivered a sailboat named Hero's Revenge and her cargo to Holloway in Petersburg, VA. The total price for his service was valued at £205,072, of which £7726 was still due. M'Connico contended that in addition to the balance, Holloway also owed him 800 lbs of coffee.
The Court's Decision
Chancellor Wythe referred the accounts to a commissioner. He then decreed the defendant pay the reported balance with interest starting September 1st. The Court of Appeals reversed the decision and remanded the case back to the High Court of Chancery to reform the report.
See also
References
↑ Daniel Call, Reports of Cases Argued and Adjudged in the Court of Appeals of Virginia, 3rd ed., ed. Lucian Minor (Richmond: A. Morris, 1854), 2:301. George Wythe owned the first edition of this set.