Long v. Colston
From Wythepedia: The George Wythe Encyclopedia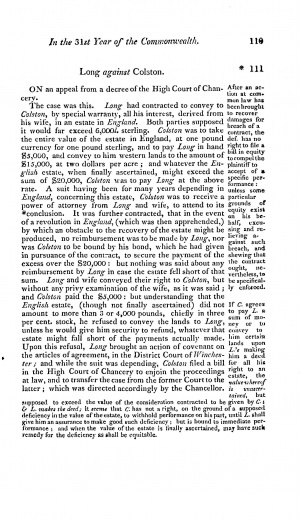 Long v. Colston, 11 Va. (1 Hen. & M.) 110 (1806),[1] involved a contract dispute for land located in England.
Background
Long contracted to sell Colston his wife's English estate. At the time the contract was made, both parties believed the land was worth more than 6,000 sterling. The terms of the agreement allowed Colston to purchase the estate at a £1:1 sterling ratio for a total of $5,000. It also gave Long western lands amounting to $15,000. The contract included provisions for various foreseeable events such as if the English estate exceeded 6,000 sterling or if a revolution occurred in England. However, the contract did not include what would happen in the event the land was actually worth less than the bargained for price. More specifically, there were no terms requiring Long to reimburse Colston for overpayment. The contract was executed and Long conveyed the property rights for $5,000. However, after realizing the land was actually worth only £3,000 or £4,000, Colston refused to pay Long the western lands promised in the agreement. Upon Colston's refusal, Long sued Colston in the District Court of Winchester. While the suit was pending, Colston sued Long in the High Court of Chancery and moved to enjoin both proceedings.
The Court's Decision
The Court of Chancery was faced with two questions: (1) whether it had jurisdiction to interfere in a law proceeding and (2) whether Long was entitled to full payment as defined in the contract despite the actual worth of the property. Chancellor Wythe was of the opinion that the Court had jurisdiction over the matter. Wythe then decreed that Long was entitled to be paid pro rata for the difference between the $5,000 and the actual proportion of the English estate. The Court of Appeals was of the opinion that the injunction should be dissolved and dismissed the case without prejudice.
See also
References
↑ William Hening and William Munford, Reports of Cases Argued and Determined in the Supreme Court of Appeals of Virginia: With Select Cases, Relating Chiefly to Points of Practice Decided by the Superior Court of Chancery for the Richmond District (Flatbush: I. Riley, 1809), 1:110.