Lipscomb's Administrator v. Winston
From Wythepedia: The George Wythe Encyclopedia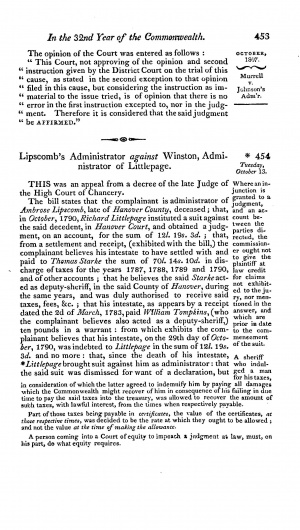 Lipcomb's Administrator v. Winston, 11 Va. (1 Hen. & M.) 453 (1807),[1] was a case where the Court determined whether an estate's administrator had carried out his duty to sufficiently satisfy a debt.
Background
Ambrose Lipscomb's administrator brought this case against Richard Littlepage. In October 1790, Littlepage obtained a money judgment against the Lispcomb estate in Hanover County Court for a debt. However, Lipscomb's administrator argued that prior to the judgment, he paid Thomas Starke and William Tompkins, both deputy sheriffs for Hanover County, a sum of about £80 for taxes and other disputes. Lipscomb's Administrator alleged that the settlement amount for Littlepage's debt had already been paid to the Sheriff's department and asked the court to find the debt satisfied. The administrator further alleged that he could not make these arguments during the County Court proceeding because the case had been dismissed for failure to state a claim, but was later revised and the trial was allowed to proceed. The administrator stated he was not aware that the trial continued and was not told that he was to appear in court.
The Court's Decision
Chancellor Wythe confirmed the report and awarded an injunction against the money judgment to Lipscomb's administrator. The Court of Appeals reversed and remanded the case.
See also
References
↑ William Hening and William Munford, Reports of Cases Argued and Determined in the Supreme Court of Appeals of Virginia: With Select Cases, Relating Chiefly to Points of Practice, Decided by the Superior Court of Chancery for the Richmond District (Flatbush, N.Y.: I. Riley, 1807), 1:453.