Lindsay v. Howerton
From Wythepedia: The George Wythe Encyclopedia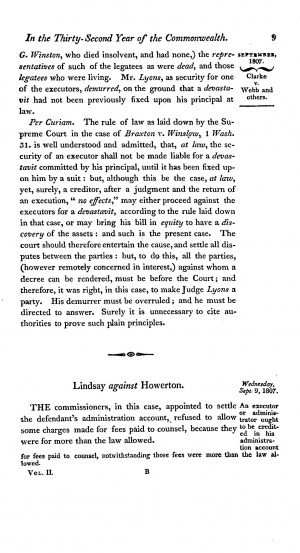 In the brief case of Lindsay v. Howerton, 12 Va. (2 Hen. & M.) 9 (1807),[1] the Court determined whether an estate was entitled to attorney's fees when settling an administrative account.
Background
This case came about when the commissioners appointed to settle Howerton's administrative account refused to include attorney's fees in their calculations. The commissioners stated that the fees should not be included because they exceeded the legal amount.
The Court's Decision
By the time this case was determined in the High Court of Chancery, George Wythe had already passed away. The Court of Appeals, upon hearing the case, determined Howerton's estate was entitled to attorney's fees. The Court reasoned that Howerton's estate required an attorney, whose conduct Howerton could not regulate. In its decision, the Court noted George Wythe's assessment of the case, stating "this opinion is supported by the opinion of the former Chancellor, as appears by his notes in this very case."
See also
References
↑ William Hening and William Munford, Reports of Cases Argued and Determined in the Supreme Court of Appeals of Virginia: With Select Cases, Relating Chiefly to Points of Practice, Decided by the Superior Court of Chancery for the Richmond District (Flatbush, N.Y.: I. Riley, 1807), 2:9.