Memoirs of the Life of William Wirt, Attorney General of the United States
From Wythepedia: The George Wythe Encyclopedia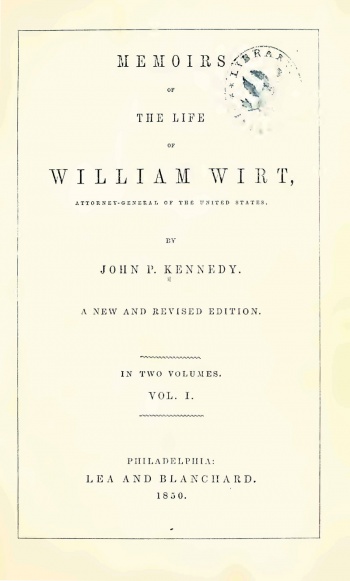 William Wirt (1772 – 1834) was admitted to the bar in 1792, and began to practice law at Culpeper Courthouse (now Culpeper), Virginia, at the age of 20, residing near Charlottesville.[1] In 1799 he was elected clerk of the House of Delegates, and moved to Richmond. He was made Chancellor of the Eastern District of Virginia in 1802, and proceded to Williamsburg, where he was an "occasional attendant" of the lectures of St. George Tucker at the College of William & Mary.[2]
Wirt resigned his chancellorship after six months and in 1803 moved to Norfolk. In 1806, he returned to Richmond, where he part of the team which defended George Wythe Sweeney of the charge of murdering his great-uncle, George Wythe. In 1807, President Jefferson requested him for the prosecution of Aaron Burr for treason. In 1816, he was appointed by Madison as the United States Attorney for the District of Virginia, and in 1817, he was appointed the ninth Attorney General of the United States by President Monroe. He was Attorney General for twelve years until 1829, through the administration of President Adams, and afterward retired to Baltimore.[3]
Wirt wrote a series of essays for the Richmond Enquirer which were published as The Rainbow (1803) and The Old Batchelor (1810). His popular "Letters of the British Spy" for the Virginia Argus newspaper in Richmond were collected into book form and published in 1803. The Two Principal Arguments in the Trial of Aaron Burr was published in 1808, and a biography of Patrick Henry in 1817.
William Wirt's memoirs were published in two volumes by John Pendleton Kennedy, librarian of the State of Virginia, in 1849, with a "New and Revised" edition in 1850. The relevant excerpts regarding George Wythe and the trial of Sweeney are presented here.[4] Of particular interest is a quotation of a letter written by Agnes S.B. Gamble Cabell to her sister, Elizabeth Washington Gamble Wirt (Wirt's second wife), regarding scientific and social experiments performed by Wythe.
Excerpts from Volume I, 1850
Page 93
TO DABNEY CARR.

RICHMOND, February 13, 1803.

CARISSIME CURKUS:

This honour of being a Chancellor is a very empty thing, stomachically speaking; that is, although a man be full of honour his stomach may be empty; or, in other words, honour will not go to market and buy a peck of potatoes. On fifteen hundred dollars a year, I can live, but if death comes how will my wife and family live? Her father and mother perhaps dead, her sisters and brothers dispersed to the ends of the earth, what will become of her? This is the only rub that clogs the wheels of my bliss, but it is in my power to remove even this rub, and, in the event of my death, in a few years to leave my wife and children independent of the frowns or smiles of the world.

What I have to ask you, then, is, shall I, for the sake of a little empty honour, forego the pleasure of this independence? a pleasure which would soothe me even in the hour of death; or shall I, for the sake of attaining this blessed independence, and the contentment and dignity of mind which belong to it, renounce at once the starving honour which I now possess? You may see, from the terms in which I state the case, that my own mind is in favour of the latter renunciation. Nevertheless, it would give me great satisfaction that my friends, too, approved of my plans.

The counsels of my friends in Virginia and Kentucky, press me with fervour to the latter country. There is an uncommon crisis in the superior courts of that State, and I am very strongly tempted to take advantage of it. I would go to the bar, and bend all the powers of my soul and body to the profession for fifteen years. In that time, I have no doubt, I should have amassed a sufficiency of wealth, to enable me to retire into the lap of my family, and give up my latter days to ease.

In the course of my business there, too, it would be my study so to unite my dignity with my interest as, in my old age, to be able to lead my sons (if I am blessed with sons) upon the theatre of life, so as to pre-engage for them the respect and confidence of the world, that they might never blush at the mention of their father's name, unless it were a blush of reflected honour and virtuous emulation. These are the scenes which dance before my delighted imagination, which I believe by no means chimerical; on the contrary, if I enjoy my natural health, I have no doubt (from the actual experience of others in the same State) of my ability to realize them. Such is the prospect on one hand. On the other, it is possible that I may, like Mr. Wythe, grow old in judicial honours and Roman poverty. I may die beloved, reverenced almost to canonization by my country,
Page 94
and my wife and children, as they beg for bread, may have to boast that they were mine. Honour and glory are indeed among the strongest attractions, but the most towering glory becomes dust in the balance when poised against the happiness of my family.

If you think it right that I should resign, the questions which remain are, when shall I do so, and in what country shall I resume the practice of law? As to this when? I am thirty years of age; fifteen years more will make me forty-five. In my opinion, a man of forty-five ought to be able to work or play as he pleases. I have no notion of toiling on till I am too old or too infirm to enjoy even retirement:—so that I have no time to lose.

As to the where? In Virginia, the most popular lawyer in the State merely makes the ends of the year meet,—I mean Edmund Randolph. I have this from the gentleman who keeps his books. Virginia, therefore, is not the country for my purpose. The federal city is not to my taste, or interest. It would require too much time there to take root. In the soil of Kentucky, every thing flourishes with rapidity. Besides, I love the ardent character of the State; and, moreover, it is a country calculated to give a man his choice of modes of life. Land being cheap and fertile, he may farm it on his country-seat, or dash away, when his wealth will authorise it, in the circles of the gay, or float his commercial speculations down the Mississippi. This latter view of the subject is meant to apply to the various views of those to whom I shall, with the blessing of heaven, give my name.

Pray let me have your thoughts at large on this subject.

Heaven preserve you,
Page 140
CHAPTER XII.

1806.

REMOVES TO RICHMOND A PROFESSIONAL CASE OF CONSCIENCE.—DEFENCE OF SWINNEY—CHANCELLOR WYTHE—JUDGE CABELL.—LETTER TO MRS. W. ON SWINNEY'S CASE.—FONDNESS FOR MUSIC—LETTER TO F. W. GILMER RECOLLECTIONS OF PEN PARK.

His dwelling-place is now once more in Richmond. His return to the bar there is signalized by a case of conscience, the proposing of which shows that he had now reached that point in his profession in which, no longer impelled by hard necessity, he might debate with himself a question of casuistry, upon the merits of taking employment in a criminal cause, wherein he had reason to believe the criminal unworthy of defence. This is a new era in his forensic life. It is an incident which does not always arrive in the career of even eminent lawyers. The point has often been a debated question. The better opinion of the bar seems generally to have settled it on the side of their own interest; much to the gratification of culprits, who, however steeped in iniquity, find no lack of energetic and skilful defence from the brightest, if not the best, lights of the profession. A trial is regarded as a species of tourney, in which the champions are expected to show their prowess—to use a phrase of the British Spy—in "forensic digladiation," as little concerned with the intrinsic right or wrong of the accusation, as the knights of the ancient tilting-yard were with the real merits of the beauty of their respective mistresses. The laws of chivalry placed the true knight in a category somewhat resembling that of Captain Absolute. "Zounds, sirrah, the lady shall be as ugly as I choose: she shall have a hump on each shoulder; she shall be as crooked as the crescent; her one eye shall roll like the bull's in Coxe's Museum; she shall have a skin like a mummy, and the beard of a Jew,—she shall be all this,—and you shall ogle
Page 141
her all day and sit up all night to write sonnets on her beauty." The question of conscience ordinarily fares no better in the courts, in the customary tilting there in defence of suspected innocence.

The case which now exercised the mediation of Wirt was that of a man, by the name of Swinney, charged with the crime of poisoning the venerable Chancellor Wythe, who had just died in Richmond, under circumstances which led to a strong suspicion of the guilt of the accused. Chancellor Wythe was one of the best men the country ever produced. Distinguished for the simplicity of his character, his bland and amiable manners, his uprightness and steadfast devotion to duty, he was universally beloved in the society of Richmond.

I am indebted to a most estimable lady, the wife of Judge Cabell, of Richmond, the President of the Court of Appeals of Virginia,* to both of whom frequent reference will be found in these memoirs, for some recollections of the Chancellor which very agreeably confirm what has been often said of his gentle and philanthropic temper; and which will also afford melancholy testimony as to the foul deed which is supposed to have terminated his life.

This lady,[5] in a letter to her sister, Mrs. Wirt, says:—"You and I may remember the trouble he gave himself to entertain the visiters [sic] of his young niece, Miss Nelson, who lived with him a few years. She and all of us were almost children, and few grown men would have found any interest in staying in the room where we were. But the good old gentleman brought forth his philosophical apparatus and amused us by exhibiting experiments, which we did not well comprehend, it is true, but he tried to make us do so, and we felt elevated by such attentions from so great a man.

---

*William H. Cabell, the gentleman here alluded to, now at the head of the Bench of Virginia, crowned with the richest honours of a ripe old age, and surrounded by an affectionate circle of friends, married Agnes, the eldest daughter of Col. Gamble, and sister of Mrs. Wirt. He represented Amherst county in the Legislature of Virginia from 1795 to 1805, except during three years of this interval. In 1805 he was elected Governor of the State, and at the expiration of three years was appointed to the Bench of the General Court. He was transferred, in 1811, to the Court of Appeals, of which he is at this time (1849) the President. The connection between him and Mr. Wirt, laid the foundation of an intimate friendship, which was increased with every succeeding year until death dissolved it. Many proofs of this maybe found in the correspondence to which our narrative hereafter refers, In this intimacy, it will be seen also, that Joseph Cabell, the brother of this Judge, largely participated.
Page 142
"To test the theory that there was no natural inferiority of intellect in the negro, compared with the white man, he had one of his own servant boys and one of his nephews both educated exactly alike. I believe, however, that neither of them did much credit to their teacher.

"The young men who studied law with him, or who were occupied in his service, were all devoted to him. Henry Clay was one of them. The Chancellor lived to a very old age. In his appearance be was thin, rather tall, but stooped from age and debility, as he walked to and from the Capitol to his own house. He generally lived alone, but in his latter years he had a nephew with him to whom he intended to bequeath his estate. This was Swinney. The common belief was that this man, being impatient for his uncle's money, poisoned him. He was tried for his life. Mr. Wirt was his lawyer, and he was acquitted. Yet there was but little doubt of his guilt in the minds of most persons. The cook said that he came into the kitchen and dropped something white into the coffee-pot, making some excuse to her for doing so. She and another servant partook of the coffee. I have heard that the latter died in consequence. The coffee-grounds being thrown out, some fowls ate of them and died. The unhappy old gentleman lived long enough after taking the coffee to alter his will, so that the suspected man got no portion of his estate at last. The coffee-grounds were examined, and arsenic was found in abundance mingled with them."

This little sketch presents the outlines of the case, as it was developed at the trial and in the investigations of the day.

Wirt's doubts, to which I have alluded, upon the propriety of engaging in the defence of Swinney, are told in the following letter written from Williamsburg, after he had engaged his house in Richmond, and in the moments of his removal thither.




TO MRS. WIRT.
WILLIAMSBURG,

*          *          *          *          *          *          *

"I have had an application made to me yesterday, which embarrasses me not a little, and I wish your advice upon it. I dare say you have heard me say that I hoped no one would undertake the de-
Page 143
fence of Swinney, but that he would be left to the fate which he seemed so justly to merit. Judge Nelson, himself, has changed, a good deal, the course of my opinions on this subject, by stating that there was a difference in the opinion of the faculty in Richmond as to the cause of Mr. Wythe's death, and that the eminent McClurg, amongst others, had pronounced that his death was caused simply by bile and not by poison. I had concluded that his innocence was possible, and, therefore, that it would not be so horrible a thing to defend him as, at first, I had thought it. But I had scarcely made up my mind on this subject, little supposing that any application would be made to me. Yesterday, however, a Major A. M., a very respectable gentleman, and an uncle to Swinney on the mother's side, came down in the stage from Richmond, and made that application in a manner which affected me very sensibly. He stated the distress and distraction of his sister, the mother of Swinney; said it was the wish of the young man to be defended by me, and that if I would undertake it, it would give peace to his relations. What shall I do? If there is no moral or professional impropriety in it, I know that it might be done in a manner which would avert the displeasure of every one from me, and give me a splendid debut in the metropolis. Judge Nelson says I ought not to hesitate a moment to do it; that no one can justly censure me for it; and, for his own part, he thinks it highly proper that the young man should be defended. Being himself a relation of Judge Wythe's, and having the most delicate sense of propriety, I am disposed to confide very much in his opinion. But I told Major M., I would take time to consider of it, and give him an answer, at the farthest, in a month. I beg you, my dear B., to consider this subject, and collect, if you can conveniently in conversation, the opinions of your parents and Cabell, and let me hear the result. My conduct through life is more important to you and your children than even to myself; for to my own heart I mean to stand justified by doing nothing that I think wrong. But, for your sakes, I wish to do nothing that the world shall think wrong. I would not have you or them subject to one reproach hereafter because of me."

          *          *          *          *          *          *          

On such a question as is here proposed—indeed on most questions of conduct or duty,—the sensibility of an intelligent and virtuous woman is often worth more than all the dialectics of the most accomplished casuist, to discern what it best becomes us to do in a matter that touches our reputation. Her feelings are but the quick perceptions of a heart that reasons better than the mind. Guided by the instinctive love, characteristic of her sex, of what is beautiful, not less in moral than in physical life, she lights upon her conclusion with a rapidity and a truth which outstrip all argument in speed, and
Page 144
often, in equal degree, surpass it in wisdom. When this judgment is stimulated by the affectionate anxiety of a wife, it is even less apt to stray into error: the very tenderness of her relation renders it the more impartial.

How it fared in regard to Swinney's case, is told in a passage from a letter written within ten days after the last. * * * "I shall defend young Swinney under your counsel. My conscience is perfectly clear, from the accounts I hear of the conflicting evidence. Judge Nelson again repeats, on consideration, the opinion he before gave me as to the perfect propriety of the step."

Swinney, as we have seen, was tried and acquitted. I have no record to furnish me the grounds of this acquittal, much less to enable me to say any thing of "the splendid debut" which Wirt anticipated.

It is not unlikely that the trial terminated in favor of the accused from a defect in the evidence, by no means unusual in those states, whose statutory law disqualifies a witness from giving testimony, upon objections founded merely in the race or blood of the person acquainted with the facts. The cook in this case, who seems to have been, perhaps, the only direct witness, we may conjecture, was a negro, and forbidden to be heard in a court of justice. If this be the real cause of the acquittal, it presents a very striking and cogent example of the impolicy of a law so prevalent in the United States. It may well be questioned, whether more inconvenience and mischief do not result from such legal restraints as disable our familiar servants from testifying to the thousand transactions in which our interest is concerned, and under circumstances that scarcely admit of other testimony, than can be compensated by any supposed good which may properly be ascribed to the disqualification. Is there, in fact, any just ground of policy in shutting off the only testimony by which innocence may be proved, guilt established, or common matters of right determined? Are not courts and juries sufficiently able to judge of the credibility of a witness in every case?
See also
References
External links
Read this book in Google Books.