Lewis's Executor v. Bacon's Legatee and Executors
From Wythepedia: The George Wythe Encyclopedia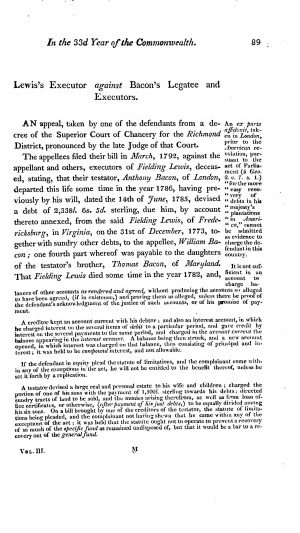 Lewis's Ex'or v. Bacon, 13 Va. (3 Hen. & M.) 89 (1808),[1] was a creditor/debtor case.
Background
On December 31, 1773, Fielding Lewis owed Anthony Bacon about £2000. In 1782, Lewis died and his estate came under the management of his executors. On June 14, 1785, Anthony Bacon revised his will. The will included a bequest of one-fourth of Lewis's debt to Bacon's nieces. In 1786, Anthony Bacon died. Ten years later the executors of Bacon's estate sued Lewis' executors to recover and bequeath the debt owed to Bacon.
The Court's Decision
During a hearing in May of 1802, Chancellor Wythe overruled Lewis' statute of limitations plea, after witness testimony proved the Lewis acknowledged the debt in 1789 and decreed that the sole executor of the state pay off the debt. Wythe was of the opinion that the decadent's knowledge of the debt fell into an exception for barring action. The plaintiffs prosecuted no further, but Wythe reserved liberty for the plaintiffs to reinstate their demands in the future. The court of appeals reversed the decree. The Court determined that Wythe had no right to supersede the statute of limitations.
While delivering his opinion, Judge Tucker stated, "The Chancellor, upon what grounds I cannot perceive, pronounced it to be a debt arising from such accounts as concerned the trade of merchandise between merchants. But there is no charge to that effect in the bill, nor anything else in the record that shews it."
See also
References
↑ William Hening and William Munford, Reports of Cases Argued and Determined in the Supreme Court of Appeals of Virginia: With Select Cases, relating Chiefly to Points of Practice, Decided by the Superior Court of Chancery for the Richmond District (New York: I. Riley, 1810), 3:89.