Jones v. Tomlinson
From Wythepedia: The George Wythe Encyclopedia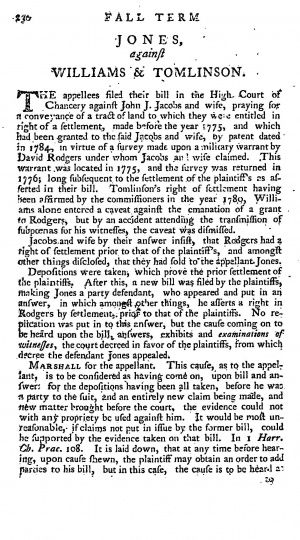 Jones v. Tomlinson, 1 Va. (1 Wash.) 230 (1793),[1] is a case where the Court determined who had property rights in a land dispute.
Background
Williams and Tomlinson obtained the right to live on a tract of land before 1775. Jacobs and his wife obtained the same land from David Rodgers through a military warrant in 1784. Williams and Tomlinson sued John J. Jacobs and his wife in the High Court of Chancery to solidify their property rights. In their answer, Jacobs and his wife insisted Rodgers had the right to settle prior to the plaintiffs. They also disclosed that based on this premise, they sold the land to Jones, making him a defendant in the case.
The Court's Decision
After hearing depositions proving that Williams and Tomlinson settled first, Chancellor Wythe decreed in favor of the plaintiffs. The Court of Appeals, swayed by the argument that the land could not be possessed under the King's crown [British rule], reversed Wythe's decision with court costs.
See also
References
↑ Bushrod Washington, Reports of Cases Argued and Determined in the Court of Appeals of Virginia, (Richmond: T. Nicolson, 1798), 1:230.