Jones v. Roberts
From Wythepedia: The George Wythe Encyclopedia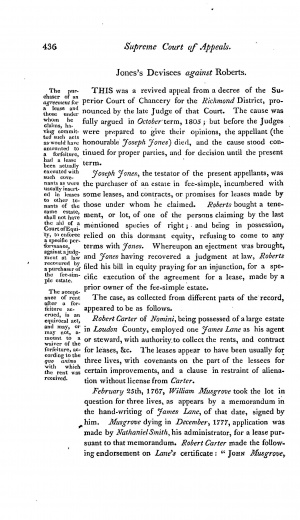 In Jones. v. Roberts, 13 Va. (3 Hen. & M.) 436 (1809),[1] the Court determined whether a tenant is entitled to the rights of his former lease when the tenement is under new management.
Background
William Musgrove obtained a lease from Robert Carter for the length of three lives. After Musgrove's death, his son, John, inherited the lease but no additional lease was created for John nor did John reach out to Robert Carter. Although no additional lease was drafted, William Musgrove's estate continued to pay rent on the property until August 1790. After John became of age, he sold the lot to a man surnamed Roberts on September 23, 1791. The deed John gave Roberts, which was not recorded, maintained the same terms of William Musgrove's lease, particularly that the lease would last for the length of three lives. Prior to John's sale, a creditor placed a lien on the entire tenement and executed that lien in September 1791 and another in September 1793 while Roberts was a tenant. On February 6, 1794, Charles Carter purchased the property and took management over the tenements. After discovering that Roberts did not have a written lease, Carter requested that Roberts either negotiate a new lease agreement with him or leave the property. Roberts argued that he was entitled to the lease he purchased under the old management and refused to do either option. Carter then brought his action of ejectment to the High Court of Chancery.
The Court's Decision
Chancellor Wythe perpetuated the injunction and directed that a lease should be made for the lot in question. The Court of Appeals reversed and dismissed.
See also
References
↑ William Hening and William Munford, Reports of Cases Argued and Determined in the Supreme Court of Appeals of Virginia: With Select Cases, Relating Chiefly to Points of Practice, Decided by the Superior Court of Chancery for the Richmond District (New York: I. Riley, 1810), 3:436.