Hook v. Ross
From Wythepedia: The George Wythe Encyclopedia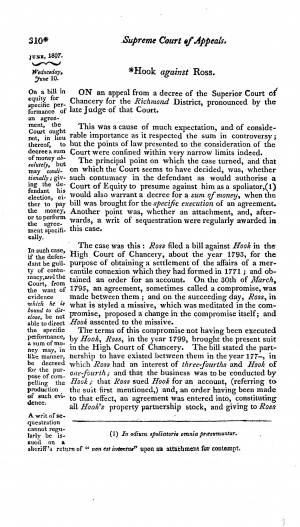 Hook v. Ross, 11 Va. (1 Hen. & M.) 310 (1807),[1] was a case that determined whether a defendant's refusal to obey a court order, which caused the Court of Equity to prejudice every presumption against him, would also warrant a monetary judgment when the suit was brought for the specific performance of a contract.
Background
In 1793, Ross sued Hook in the High Court of Chancery to obtain a settlement regarding a mercantile connection they formed in 1771 and to obtain an account of how much was owed to Ross from the connection.
The Court's Decision
Chancellor Wythe directed that a sum money should be paid instead of specific performance of the negotiation. The Court of Appeals reversed and annulled the decree.
See also
References
↑ William Hening & William Munford, Reports of Cases Argued and Determined in the Supreme Court of Appeals of Virginia: with Select Cases, relating Chiefly to Points of Practice, Decided by the Superior Court of Chancery for the Richmond District, 2nd ed. (Flatbush: I. Riley, 1809), 1:310.