Harvey v. Borden
From Wythepedia: The George Wythe Encyclopedia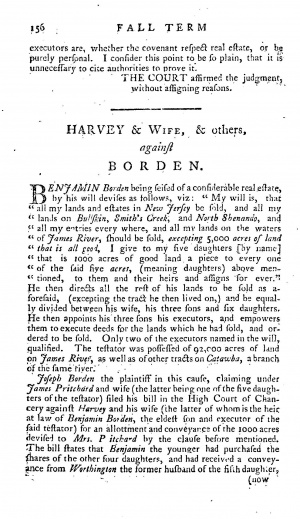 Harvey v. Borden, 2 Va. (2 Wash.) 156 (1795),[1] was a dispute between family members over a land inheritance.
Background
Benjamin Borden left a will selling all of his land, except for 5,000 acres and the land on which Borden lived on until the time of his death. The will stated that the remaining 5,000 acres should be evenly split between Borden's five daughters. Further in his will, Borden appointed his three sons as the executors of his will and empowered them to execute deeds for the land which he directed to be sold. Joseph Borden, representing his sister and her husband, James Pritchard, brought this suit in the High Court of Chancery. Joseph is suing Harvey and his wife for the Pritchard's allotment of the 1000 acres. According to Joseph, Harvey's wife is the heir-at-law of the Benjamin Borden, Jr., the eldest son of Benjamin Borden, estate. Benjamin Borden, Jr. purchased the shares of his four sisters and received a conveyance for Mrs. Pritchard's share from her former husband, Worthington. Joseph argues that Mrs. Pritchard was unaware that her husband's title to her land was invalid and that she receive her due land. Harvey argues that the land given to Mrs. Pritchard was from the 20,000 acres located on the James River and not the better land located on Catawha which belong to Benjamin Borden, Sr.
The Court's Decision
Chancellor Wythe found in favor of the Pritchards and decreed that Harvey should not only convey the 1000 acres to Mrs. Pritchard but also give her any profits made from the land since the commencement of the suit. The Chancellor left it up to the commissioners to determine which 1,000 acres to which Benjamin Borden, Jr. was entitled would be given to the Pritchards. The Court of Appeals affirmed the ruling.
See also
References
↑ Bushrod Washington, Reports of Cases Argued and Determined in the Court of Appeals of Virginia, (Richmond: T. Nicolson, 1799), 2:156.