Harrison v. Harrison
From Wythepedia: The George Wythe Encyclopedia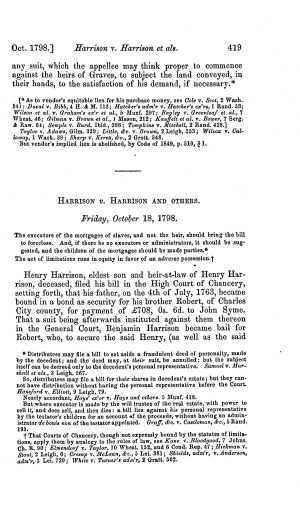 Harrison v. Harrison, 5 Va. (1 Call) 419 (1798),[1] was a case where the court decided who should bring a bill to foreclose, the executors of the mortgagee or the mortgagee's heir.
Background
Henry Harrison, Jr., the eldest son and heir-at-law of Henry Harrison, Sr., then deceased sued in the High Court of Chancery on behalf of his father's estate. On July 4th, 1763, Henry, Sr. became security for his brother Robert for a payment of £708, 0s. 6d. owed to John Syme. After a lawsuit was brought against him, Robert executed a mortgage to Henry, Sr. on November 4, 1766. The mortgage granted Henry, Sr. with thirty-five slaves, some household furniture, and horses. Under their agreement, the mortgage would be void if Robert paid in full. However, Robert passed away and on October 28, 1770, John Syme obtained a judgment against Henry, Sr. for £637 and interest since 1764, which Henry, Sr. paid. However, after Robert's death a variety of executions were issued against him and Sheriff George Mine, who was aware of the mortgage between Henry, Sr. and Robert sold Robert's slaves to third parties, including Braxton Harrison (the defendant of this case). Henry Harrison, Jr. brought this suit against Braxton Harrison to recover the illegally sold slaves.
The Court's Decision
Chancellor Wythe decreed a foreclosure of the mortgage, but suspended it until it was determined whether the judgment against Henry Harrison was paid. The Court of Appeals reversed on the grounds that the case was improperly heard for want of necessary parties and remanded to the Court of Chancery for proper parties to be made.
See also
References
↑ Daniel Call, Reports of Cases Argued and Adjudged in the Court of Appeals of Virginia, 3rd ed, ed. Lucian Minor (Richmond: A. Morris), 1:419.