Ford v. Gardner
From Wythepedia: The George Wythe Encyclopedia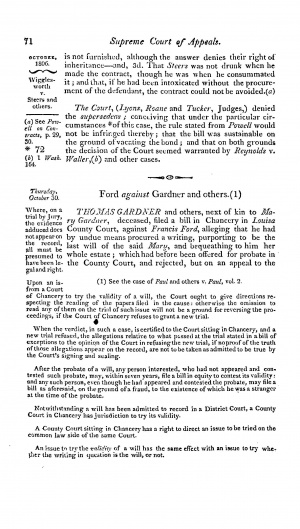 Ford v. Gardner, 11 Va. (1 Hen. & M.) 71 (1806),[1] was a case involving the validity of a will.
Background
The family members of Mary Gardner brought a suit against Francis Ford. Ford claimed that Mary had written a will giving him her entire estate. The Gardner family provided several witnesses stating that the document Ford possessed was not properly executed.
The Court's Decision
Chancellor Wythe affirmed the lower court's decision in favor of the Gardner family. The Court of Appeals agreed.
See also
References
↑ William Hening and William Munford, Reports of Cases Argued and Determined in the Supreme Court of Appeals of Virginia: with Select Cases, Relating Chiefly to Points of Practice, Decided by the Superior Court of Chancery for the Richmond District, 2nd ed. (Flatbush, N.Y.: I. Riley, 1809), 1:71