Fletcher v. Pollard
From Wythepedia: The George Wythe Encyclopedia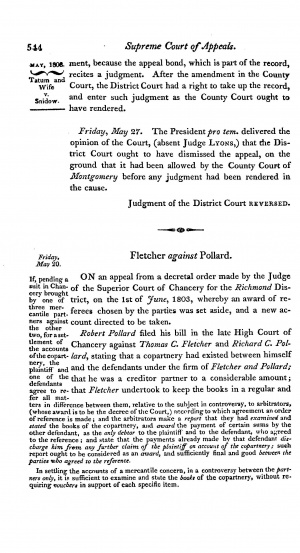 Fletcher v. Pollard, 12 Va. (2 Hen. & M.) 544 (1808),[1] was a business dispute involving the mismanagement of funds. In this case, the court addressed whether a Court of Chancery could set aside an arbitration award on the grounds of inequity.
Background
Robert Pollard sued his copartners, Thomas C. Fletcher and Richard C. Pollard, for debt owed to him by the company. Fletcher executed a deed of trust on a tract on land to indemnify Pollard's advance payments to the company stating that the firm was profitable. However, Pollard argues that due to Fletcher's negligence the company was involved in a lot of debt and faced multiple lawsuits. The purpose of the suit was to take an account for the company and have Fletcher's land and slaves sold as an indemnity to the plaintiff.
The Court's Decision
The contract between the parties allowed for referees (arbitrators) to give an award. However, Chancellor Wythe did not believe the referees' report was sufficient and declared that a commissioner investigate the accounts. Based on this decree, Fletcher appealed. The Court of Appeals reversed stating that the Chancellor should not have set aside the award made by the arbitrators.
See also
References
↑ William Hening and William Munford, Reports of Cases Argued and Determined in the Supreme Court of Appeals of Virginia: with Select Cases, Relating Chiefly to Points of Practice, Decided by the Superior Court of Chancery for the Richmond District (Flatbush, N.Y.: I. Riley, 1809), 2:544.