Fitzhugh v. Anderson
From Wythepedia: The George Wythe Encyclopedia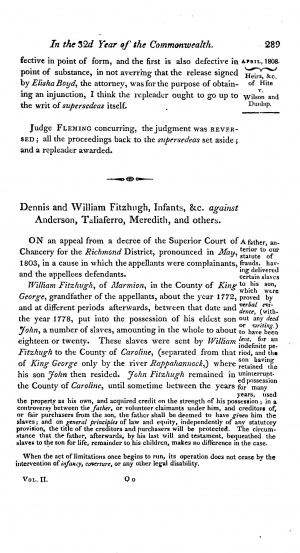 In Fitzhugh v. Anderson, 12 Va. (2 Hen. & M.) 289 (1808),[1] the court determined how the statute of frauds applied to a trust and estates case.
Background
Between 1772 and 1778, William Fitzhugh secretly gave about 18 to 20 slaves to his oldest son John. After John moved to a different county, he sold several slaves to various buyers. Soon thereafter, a judgment was executed on a number of the slaves by a creditor named William Meredith. When the slaves were to be sold to satisfy the debt, John argued to stop the sale since the slaves were not his but rather given to his children upon death. After Meredith indemnified the sheriff to continue the sale, John pulled a buyer aside and said that he lied about not having title and the purchaser should buy the slaves from him. Although William Fitzhugh never sued for the slaves in his lifetime, his will did leave the slaves to his sons. John and his brother brought this case in the High Court of Chancery against the various buyers of the slaves.
The Court's Decision
Chancellor Wythe dismissed the case. The Court of Appeal affirmed.
See also
References
↑ William Hening and William Munford, Reports of Cases Argued and Determined in the Supreme Court of Appeals of Virginia: with Select Cases, Relating Chiefly to Points of Practice, Decided by the Superior Court of Chancery for the Richmond District (Flatbush, N.Y.: I. Riley, 1809), 2:289.