Ellzey v. Lane's Executrix
From Wythepedia: The George Wythe Encyclopedia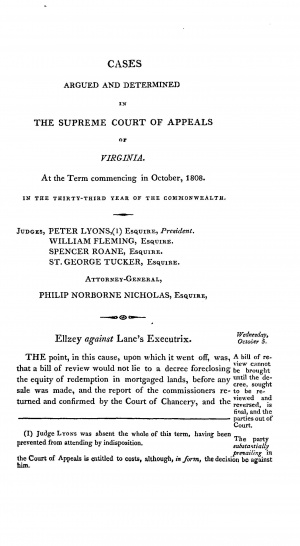 Ellzey v. Lane's Executrix, 12 Va. (2 Hen. & M.) 589 (1808),[1] was a case involving a foreclosure. The court determined whether the underlying obtainment of the land in foreclosure was by fraudulent means.
Background
Lane brought a foreclosure suit in the High Court of Chancery against Ellzey. The case ended in a default judgment and the commissioners were directed to sale the lands and report to the court. Before the sale, Ellzey filed an order to show cause stating that Lane obtained the land with usurious consideration and requesting discovery of the matter. He also prayed to be released from the interest on the land under the act of assembly, and that there may be reasonable time given prior to selling the land.
The Court's Decision
Chancellor Wythe agreed with Ellzey that the contract was usurious and decreed that he be released from the interest and given time before the land was sold. The Court of Appeals reversed the decree.
See also
References
↑ William Hening and William Munford, Reports of Cases Argued and Determined in the Supreme Court of Appeals of Virginia: with Select Cases, Relating Chiefly to Points of Practice, Decided by the Superior Court of Chancery for the Richmond District (Flatbush, N.Y.: I. Riley, 1809), 2:589.