Duval v. Bibb
From Wythepedia: The George Wythe Encyclopedia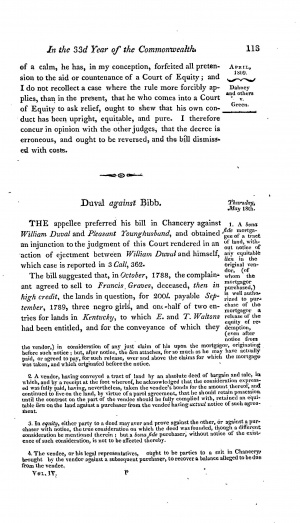 Duval v. Bibb, 14 Va. (4 Hen. & M.) 113 (1809),[1] was a land dispute case where the court determined whether a bona fide mortgagee of a tract of land, who did not have notice of a lien in the land from the original vendor, could require the land from that vendor in a court of equity.
Background
In October 1788, Bibb agreed to sell to Francis Graves a portion of land, three slaves, and one-half of two entries for lands in Kentucky. Bibb alleged that Graves pressed him to make a deed for the land, which he did on the expressed condition that Bibbs would retain possession of the land until he received the money and slaves and a proper deed for the Kentucky proper. Graves agreed to the arrangement and Bibbs executed the deed to Graves on December 13, 1788. Bibbs, who only received partial payment, remained on the property until a man named Duval brought this suit to evict him. Duval had a mortgage on the property against Graves but was not aware that Bibb had lived on the property since 1789 or that Graves still owed Bibbs anything. Duval asked the court for relief to eject Bibbs.
The Court's Decision
Chancellor Wythe made a decree that gave the Duval the choice to either pay the Bibbs as much consideration as he received from Graves, deducting his court courts in the suit or receive from the Bibbs the balance due of the consideration money and the property would be sold, where Duval would be paid his balance due and Bibbs would receive the rest of the proceeds from the sale after deducting expenses. The Court of Appeals reversed and remanded for further proceedings.
See also
References
↑ William Hening and William Munford, Reports of Cases Argued and Determined in the Supreme Court of Appeals of Virginia: with Select Cases Relating Chiefly to Points of Practice, Decided by the Superior Court of Chancery for the Richmond District (New York: I. Riley, 1811), 4:113.