Dabney v. Green
From Wythepedia: The George Wythe Encyclopedia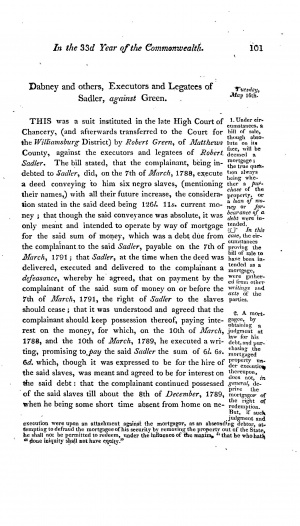 Dabney v. Green, 14 Va. (4 Hen. & M.) 101 (1809), [1] was a case involving the mortgaging of slaves to satisfy a debt.
Background
Robert Green owed a debt to Robert Sadler. In order to settle the debt, Green offered six slaves to Sadler based on the premise that if Green did not pay Sadler by the March 7, 1791, the slaves would act as a mortgage to satisfy Sadler's debt. However, on December 8, 1789, while Green spent a short time period away from home, Sadler took out an attachment against the slaves and sold them at auction. The slaves remained in Sadler's possession until his death in 1793 when Green brought this case to pay any debts owed to Sadler and to regain his slaves.
The Court's Decision
Chancellor Wythe found that the intention of the parties was to convey the slaves to Sadler in the form of a mortgage and ruled in favor of Green. The appellate court reversed and dismissed the suit with court costs.
See also
References
↑ William Hening and William Munford, Report of Cases Argued and Determined in the Supreme Court of Appeals of Virginia: with Select Cases, Relating Chiefly to Points of Practice, Decided by the Superior Court of Chancery for the Richmond District(Richmond: I. Riley, 1811), 4:101.