Cringan v. Nicolson's Executors
From Wythepedia: The George Wythe Encyclopedia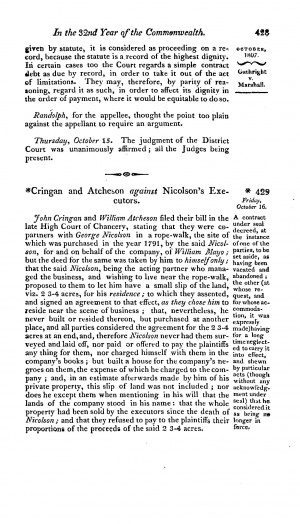 Cringan v. Nicolson's Exec'rs, 11 Va. 428, 1 Hen. & M. 429 (1807), [1] was a land dispute case between partners of a company.
Background
John Cringan, William Atcheson, and George Nicolson were business partners in a rope-walk company called William Mayo. Nicolson, on the company's behalf, purchased a portion of land and maintained the deed of the land in his name. Since Nicolson was the acting partner of the company, who managed the day to day business, he entered into a contract with Cringan and Atcheson for sixteen acres of land to be used as his residence near the rope-walk. However, Nicolson never lived on the property. Instead, he built a home on the land for the company's slaves and charged the house to the company. Upon Nicolson's death, his executors sold the land as part of Nicolson's property. However, Cringan and Atcheson, believing the contract void, sued in court for their share of the sixteen acres.
The Court's Decision
Chancellor Wythe found in favor of Nicolson's Executors. The Court of Appeals reversed and granted the two surviving business partners their share of the sold land.
See also
References
↑ William Hening and William Munford, Reports of Cases Argued and Determined in the Supreme Court of Appeals of Virginia: with Select Cases, Relating Chiefly to Points of Practice, Decided by the Superior Court of Chancery for the Richmond District (Flatbush: I. Riley, 1809), 1:428.