Coutt's Trustees v. Craig
From Wythepedia: The George Wythe Encyclopedia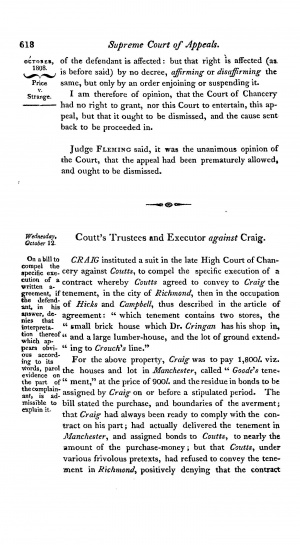 Coutt's Trustees v. Craig, 12 Va. (2 Hen. & M.) 618 (1808), [1] was a land dispute case.
Background
Craig sued Coutts in the High Court of Chancery for specific performance of a contract. In the contract, Coutts agreed to sell Craig property in Richmond and a lot in Manchester for £2700. After Craig complied his part of the contract, Coutts refused to give Craig the property in Richmond stating that he could not make good title for the ground Craig agreed to buy.
The Court's Decision
Chancellor Wythe found in favor of the Plaintiff and decreed conveyance to Craig. The Court of Appeals affirmed.
See also
References
↑ William Hening and William Munford, Reports of Cases Argued and Determined in the Supreme Court of Appeals of Virginia: with Select Cases, Relating Chiefly to Points of Practice, Decided by the Superior Court of Chancery for the Richmond District (Flatbush: I. Riley, 1809), 2:618.