Commonwealth v. Walker's Executor
From Wythepedia: The George Wythe Encyclopedia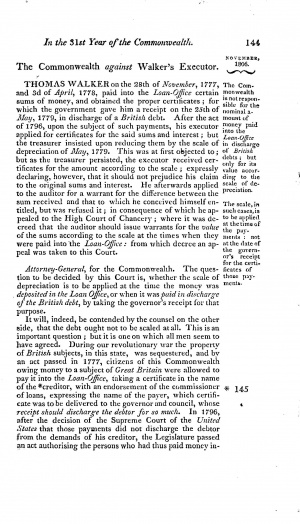 Commonwealth v. Walker's Exc'r, 11 Va. (1 Hen. & M.) 144 (1806),[1] was a dispute where the court determined whether the Commonwealth was responsible for the nominal amount of money paid into the Loan-Office to discharge British debts, or for the depreciate value of the funds at the time they were collected.
Background
In November 1777 and April 1778, Thomas Walker paid the Loan office a sum of money. On May 25, 1779, Walker's British debt was discharged and he was given a government receipt. After the Land Act of 1796, Walker's executors applied for certificates based on the sum and interest of the receipt. However, the treasurer only gave the executors the amount according to the scale of depreciation. Walker's executors brought this case to recover the full sum and interest based on the date the receipt was given and not the date the government paid it.
The Court's Decision
Chancellor Wythe decreed that Walker should be paid based on the value of the receipt at the time the funds were paid into the Loan-Office not the amount depreciated at the time it was collected. The Court of Appeals reversed.
See also
References
↑ William Hening and William Munford, Reports of Cases Argued and Determined in the Supreme Court of Appeals of Virginia: with Select Cases, Relating Chiefly to Points of Practice, Decided by the Superior Court of Chancery for the Richmond District, 2nd ed. (Flatbush: I. Riley, 1809), 1:144.