Claiborne v. Henderson
From Wythepedia: The George Wythe Encyclopedia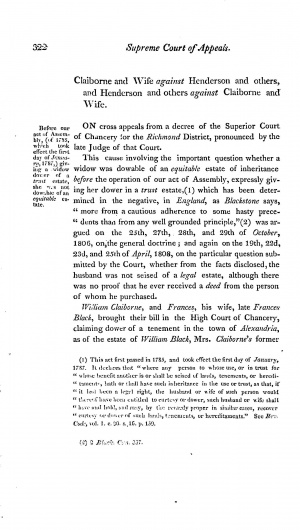 In Claiborne v. Henderson, 13 Va. (3 Hen. & M.) 322 (1809),[1] whether giving a widow a dower of a trust estate required that she was dowable of an equitable estate.
Background
The original petition was filed by William Claiborne and his wife Frances. Frances, the former widow of William Black, sought her share of dower in her husband's property including the disputed lot No. 26 in Alexandria, VA. According to the Claibornes, William Black bought the house from Allen M'Rae which was then conveyed to Black, but never recorded in court. Black then rented the lot to Thomas Kirkpatrick. After Kirkpatrick's death, his executors sold the lot to Dennis Ramsay. The plaintiff's sought the court give Frances her share in dower form her husband's death plus annual renting fees.
The Court's Decision
Chancellor Wythe found his court had jurisdiction and appoint commissioners to assign the plaintiff's dower in the lot, but also reduce the amount of rent between when the dower belonged to her and when it was formally purchased by Kirkpatrick. Both sides appealed the decision. The Court of Appeals reversed the decision and dismissed the case.
See also
References
↑ William Hening and William Munford, Reports of Cases Argued and Determined in the Supreme Court of Appeals of Virginia: with Select Cases, Relating Chiefly to Point of Practice, Decided by the Superior Court of Chancery for the Richmond District (New York: I. Riley, 1810), 3:322.