Chichester's Ex'x v. Vass's Adm'r.
From Wythepedia: The George Wythe Encyclopedia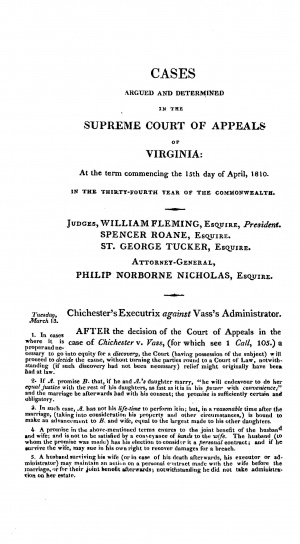 Chichester's Ex'x v. Vass's Adm'r., 15 Va. (1 Munf.) 98 (1810),[1] was a case involving the determination and enforcement of a dowry contract.
Background
Vass sought to marry a daughter of Chichester. While giving his approval to the marriage, Chichester promised to give the couple "equal justice... with convenience" in executing his daughter's dowry. In subsequent letters, Chichester was working toward giving the newlyweds a parcel of land in which they could build a house. However, when Chichester's daughter died during child-birth, Chichester redacted his promise and refused to give any dowry for his daughter. Vass sued Chichester to compel him to fulfill his promise.
The Court's Decision
Chancellor Wythe overruled Chichester's jurisdictional objects and decreed that Vass should be paid £565 which was about the value of marriage portion granted to another daughter of Chichester. The appeals court reversed the amount of interest but affirmed the rest of the opinion.
See also
References
↑ William Munford, Reports of Cases Argued and Determined in the Supreme Court of Appeals of Virginia, (New York: I. Riley, 1812), 1:98.