Braxton v. Lee's Heirs
From Wythepedia: The George Wythe Encyclopedia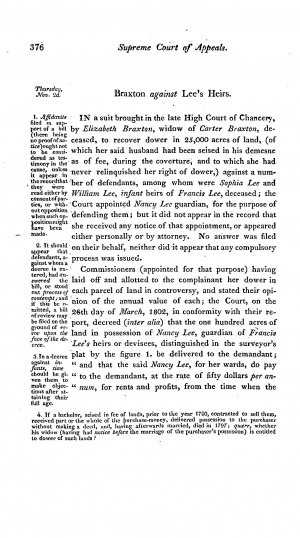 Braxton v. Lee's Heirs, 14 Va. (4 Hen. & M.) 376 (1809),[1] discussed whether decrees against children could later be challenged by the child when it had come of age.
Background
After her husband's death, Elizabeth Braxton sued in the Court of Chancery to recover her life estate (dower) in 25,000 acres of land. Among the defendants were Francis Lee's heirs, Sophia and William, who were minors. Since the Lee children were called as defendants, the court appointed Nancy Lee as their legal guardian and representative. However, Nancy Lee never appeared nor filed an answer on the children's behalf. Since Nancy Lee never appeared in court, the Commissioners (appointed to process the issue), found in favor of Elizabeth and demanded that the 100 acres possessed by the Lee children be returned to her. The court also demanded the Lee children, through their guardian, to pay Elizabeth the sum of any rent and profits accumulated from the time of the demand until she regained possession. In response to the judgment, John Dillard, a friend of the still minor Lee children, filed an appeal stating among other things that the children were not properly represented and that their grandfather had actually purchased the property from Elizabeth's husband, prior to his death.
The Court's Decision
On March 21, 1803, Chancellor Wythe "after considering the said bill and hearing counsel on both sides", rejected to hear additional evidence and found in favor of Elizabeth. On April 17, 1805, the Court of Appeals reversed the decision and found that the case should have proceeded. After George Wythe's death, the case returned to the Superior Court of Chancery on September 20, 1806. Chancellor Creed Taylor found in favor of the plaintiffs after hearing the additional facts of the case. To this decision, the Court of Appeals reversed in part and affirmed in part.
See also
References
↑ William Hening and William Munford, Reports of Cases Argued and Adjudged in the Court of Appeals of Virginia: with Select Cases, Relating Chiefly to Points of Practice, Decided by the Superior Court of Chancery for the Richmond District, (New York: I. Riley, 1811), 4:376.