Baird v. Bland
From Wythepedia: The George Wythe Encyclopedia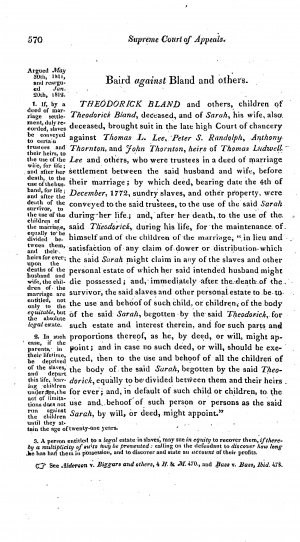 Baird v. Bland, 17 Va. (3 Munf.) 570 (1811),[1] was a case involving whether a pre-marriage agreement, in the absence of a will, entitled the children of the marriage legal title of the estate.
Background
Theordorick Bland Sr. and Sarah Bland drafted a pre-marriage agreement conveying all slaves and property to the children of their union. While Theodorick and Sarah's children were still minors, the couple passed away without a will. When Theodorick Jr. came of age, he discovered that a man named John Baird, through allegedly unlawful means, had gained possession of a slave named Will who was one of the slaves subject to his parent's pre-marriage agreement. Theodorick and siblings requested the return of the slave and were refused. Theordorick Jr. sued Baird in the High Court of Chancery for the recovery of Will plus the profits from Will's labor. Baird claimed that he bought Will as a bona fide purchase from a sheriff's sale and also that the statute of limitations had expired.
The Court's Decision
On May 14, 1805, Chancellor Wythe found in favor of the plaintiffs and called for the return of Will plus any profits from his labor. The Chancellor stated:
"the bill is properly maintainable in the Court of equity, not only because here the plaintiffs may, as they do now, claim the benefit of a trust estate in slaves, to which species of property the statute transferring uses into possession extendeth not; but because the plaintiffs demand (what they could but partly demand in the Court of common law) both a discovery of sundry material facts, and an account of profits, which can be settled in this Court, by one of its officers, more than by a jury; so that the plaintiffs, although relievable by an action of detinue in the names of their trustees, are more completely relievable by this mode of proceeding; and that of this relief the plaintiffs are not deprived by equity of the statute for limitation of actions and avoiding of suits,"
During the same term, new evidence was filed showing that Will was sold due to a debt on the Theodorick estate in a Sheriff's sale. The case was reheard on May 19, 1806; Wythe retained his position. John Baird appealed. The Court of Appeals, after having the case reargued before a full Court due to Chancery jurisdictional issues, affirmed.
See also
References
↑ William Munford, Reports of Cases Argued and Determined in the Supreme Court of Appeals of Virginia, (New York: I. Riley, 1816), 3:570.