Austin's Administratrix v. Winston's Executrix
From Wythepedia: The George Wythe Encyclopedia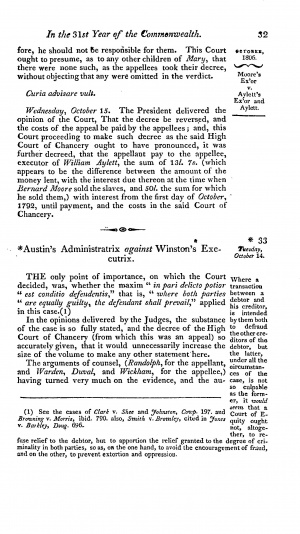 Austin's Adm'x v. Winston's Ex'x, 11 Va. (1 Hen. & M.) 32 (1806),[1] was a case were the court determined whether the maxim "where both parties are equally guilty, the defendant shall prevail" should apply.
Background
William Winston owed a debt to Chapman Austin. When the debt came due, Winston was unable to pay. As a compromise for nonpayment, Austin made a deal with Winston: Winston would sell his slaves at public auction to cover the debt, and Austin would buy the slaves back for Winston while he found other ways to pay back the money. To cover the fraud, the two agreed to tell everyone that Winston borrowed the slaves from Austin to help finish his crop harvesting. Under the pretext of a bona fide sale, seventeen slaves were sold in lots to cover the debt. Per the terms of the agreement, the slaves were returned to Winston. However, before the crops were harvested, Winston died. After Winston's death, Austin seized the slaves, selling some and keeping some for his own. Winston's executors sued Austin in hopes to redeem the slaves or excess money of Winston's original debt to Austin.
The Court's Decision
Chancellor Wythe ruled in favor of the Winston's Executors and declared a balance against Austin's account. In addition, the Chancellor dismissed all suits from those who purchased slaves from Austin after the fraudulent sale. The Court of Appeals did not agree. Instead, the Appellate Court reversed and issued a new trial to determine whether the slaves were sold for a fair price. In his opinion, Judge Roane commented that Chancellor Wythe's ruling "laid stress upon [the] original fraud and breach of trust."
See also
References
↑ William Hening and William Munford, Reports of Cases Argued and Determined in the Supreme Court of Appeal of Virginia: with Select Cases, Relating Chiefly to Points of Practice, Decided by the Superior Court of Chancery for the Richmond District, 2nd ed. (Flatbush: I. Riley, 1809), 1:32