Applebury v. Anthony
From Wythepedia: The George Wythe Encyclopedia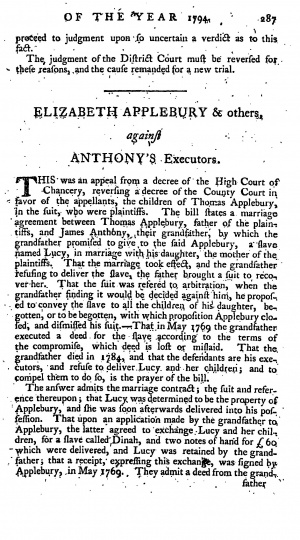 Applebury v. Anthony, 1 Va. (1 Wash) 287 (1794),[1] was a family dispute over the ownership of a slave promised in a marriage contract.
Background
The children of Thomas Applebury sued James Anthony's (their grandfather's) executors in the Court of Equity to recover a slave named Lucy. Before Thomas Applebury married James Anthony's daughter, Anthony promised Applebury the slave, Lucy, in the form of a marriage contract. After the marriage took place, Anthony refused to deliver the slave, triggering an arbitration suit between the father and son-in-law. During the arbitration, Anthony proposed to convey the slave to all his daughter's children, which led Applebury to dismiss the suit. In May 1769, the grandfather kept his word and executed a deed for the slave according to the terms of the compromise. However, the deed was lost or misplaced. After James Anthony's death in 1784, his executors refused to deliver the slave. The executors claimed that Applebury, the original benefactor, and Anthony exchanged Lucy and her children for another slave and £60 in May 1769, which voided the will.
The Court's Decision
The County Court found in favor of the Applebury children. Chancellor Wythe reversed the lower court's decree. On appeal, the Appellate court affirmed Chancellor Wythe's decree.
See also
References
↑ Bushrod Washington, Reports of Cases Argued and Determined in the Court of Appeals of Virginia, (Richmond: T. Nicolson, 1798), 1:287.