Allen v. Minor
From Wythepedia: The George Wythe Encyclopedia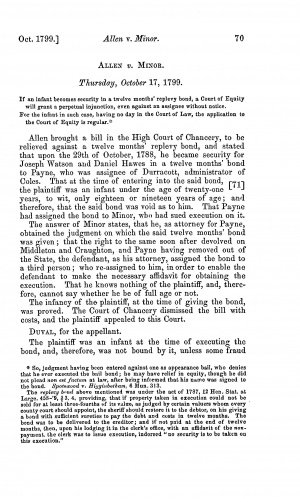 Allen v. Minor, 6 Va. (2 Call) 70 (1799),[1] was a brief decision discussing whether a minor could become security for a bond and whether such a bond could be recovered.
Background
On October 29, 1788, Allen became security for Joseph Watson and Daniel Hawes on a twelve month replevy bond. Minor, who was later assigned the bond, obtained a judgment from a lower court to recover it. To obtain relief from the bond, Allen, brought a petition to the High Court of Chancery. Allen argued that at the time the bond was executed he was a minor and could not legally be liable for the judgment. In response, Minor argued that he was not aware of Allen's stake in the bond nor of his age at the time the bond was created and that he should still recover.
The Court's Decision
After verifying that Allen was a minor at the time of the incident, Chancellor Wythe dismissed the case with court costs. The Court of Appeals reversed and found in favor of Allen, reasoning that because he was a minor, he did not have his day in Court and was "clearly entitled to relief."
See also
References
↑ Daniel Call, Reports of Cases Argued and Adjudged in the Court of Appeals in Virginia, 2nd ed., ed. Lucian Minor (Richmond: A. Morris, 1854), 2:70. George Wythe owned the first edition of this set.