The Young Mathematician's Guide: Being a Plain and Easie Introduction to the Mathematicks, in Five Parts
From Wythepedia: The George Wythe Encyclopedia
by John Ward
The Young Mathematician's Guide

Title page from The Young Mathematician's Guide, George Wythe Collection, Wolf Law Library, College of William & Mary.

Author
John Ward
Editor
{{{editor}}}
Translator
{{{trans}}}
Published
London: Printed for Tho. Horne at the South Entrance of the Royal-Exchange
Date
1719
Edition
Third, corrected
Language
English
Volumes
{{{set}}} volume set
Pages
451
Desc.
8vo. (19 cm.)
Location
Shelf L-4
 
[[Shelf {{{shelf2}}}]]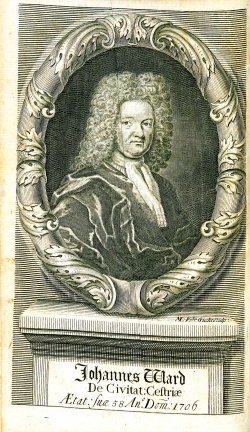 Little is known about the personal life of John Ward (active 1698-1709) and some disagreement originally existed over which Ward — John or Seth (the astronomer, 1617–1689) — contributed to the study and teaching of algebra by writing The Young Mathematician's Guide.[1] This title was used as a textbook at Harvard as early as 1726. During the colonial era, it also served as a basic mathematic text at Yale, Brown, and Dartmouth, as well as a reference work at the University of Pennsylvania. [2] The book has been described as "very deficient according to modern notions" yet with a "presentation of this subject ... superior to that in Dilworth's School-master's Assistant. It is less obscure. Like all books of that time, it contains rules, but no reasoning. What seems strange to us is the fact that subjects of no value to the beginner, such as arithmetical and geometrical proportion ... etc., are given almost as much space and attention as common and decimal fractions."[3] Nevertheless, the book was popular enough to be published in at least twelve editions in the author's lifetime.[4]
Evidence for Inclusion in Wythe's Library
Listed in the Jefferson Inventory of Wythe's Library as Ward's Mathematics. 8vo. and given by Thomas Jefferson to his grandson Thomas Jefferson Randolph. The precise edition owned by Wythe is unknown. George Wythe's Library[5] on LibraryThing indicates this, adding "Numerous octavo editions were published, the first in 1707." The Brown Bibliography[6] lists the London 3rd edition published in 1719. The Wolf Law Library followed Brown's suggestion and purchased the third edition.
Description of the Wolf Law Library's copy
Bound in contemporary panelled calf, unlettered, red sprinkled edges. Contains portrait of Ward aged 58 in 1706, the year of first publication, engraved by M. Van de Guch with numerous woodcut diagrams in the text. Purchased from Jarndyce, The 19th Century Booksellers.
Images of the library's copy of this book are available on Flickr. View the record for this book in William & Mary's online catalog.
See also
References
External Links
Read this book in Google Books.