Yancey v. Hopkins
From Wythepedia: The George Wythe Encyclopedia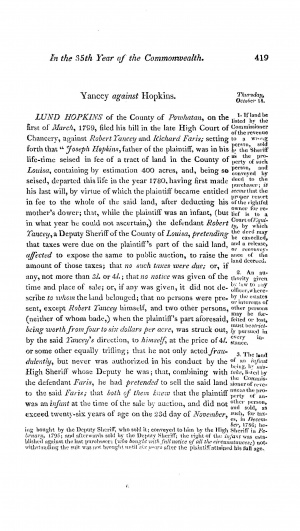 Yancey v. Hopkins, 15 Va. (1 Munf.) 419 (1810),[1] was a case where the Court determined whether a deputy sheriff committed fraud in selling the plaintiff's land.
Background
Lund Hopkins sued Richard Faris and Powhatan County Deputy Sheriff, Robert Yancey, for fraud. Lund was the son of John Hopkins, who possessed about 400 acres of land. Lund contended that while he was a minor and could not sue, the sheriff, without notice or authorization, sold his father's land in order to pay a tax which was nonexistent or, if it did exist, was nominal in nature. Hopkins argued that the 400 acres was bestowed to him, save a portion given to his mother for dower, and that the court should allow him to receive his entitled land rights.
The Court's Decision
On September 27, 1804, Chancellor Wythe "being of [the] opinion that the sale of the land which the plaintiff claim[ed]…was a fraud" determined "the indenture among the exhibits between Waddy Thomson, of one part, and the defendant Robert Yancey, of the other part, be cancelled." He also called for the defendants to give Hopkins the land and pay him profits based on a sale report made by the Commissioners. The Court of Appeals affirmed the ruling.
See also
References
↑ William Munford, Reports of Cases Argued and Determined in the Supreme Court of Appeals of Virginia, (New York: I. Riley, 1812), 3:47.