Wythe to Edmund Randolph, 16 June 1787
From Wythepedia: The George Wythe Encyclopedia
Page 1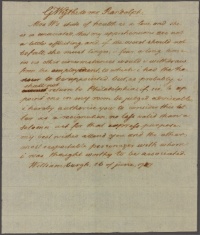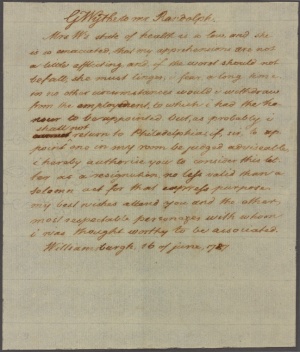 G Wythe to mr Randolph.
     Mrs. W's state of health is so low, and she is so emaciated, that my apprehensions are not a little afflicting, and, if the worst should not befall, she must linger, i fear, a long time. in no other circumstances would i draw withdraw from employment, to which i had the honour to be appointed. but, as probably i shall not return to Philadelphia, if, sir, to appoint one in my room be judged adviseable, i hereby authorize you to consider this letter as a resignation, no less valid than a solemn act for that express purpose. my best wishes attend you and the other most respectable personages with whom I was thought worthy to be associated.
     Williamsburgh, 16 of june, 1787.

Page 2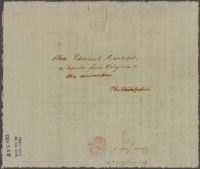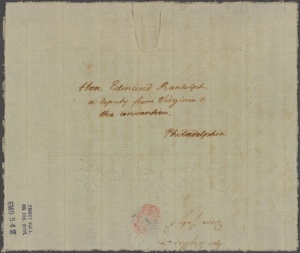 Hon. Edmund Randolph,
     A deputy from Virginia to the convention,
          Philadelphia