The Works of the Most Reverend Dr. John Tillotson, late Lord Archbishop of Canterbury: Containing Two Hundred Sermons and Discourses on Several Occasions
From Wythepedia: The George Wythe Encyclopedia
by John Tillotson
The Works of the Most Reverend Dr. John Tillotson

Title page from The Works of the Most Reverend Dr. John Tillotson, volume one, George Wythe Collection, Wolf Law Library, College of William & Mary.

Author
John Tillotson
Editor
Ralph Barker?
Translator
{{{trans}}}
Published
London: Printed for Benjamin Tooke, John Pemberton, and Edward Valentone ..., Jacob Tonson ..., and James Round
Date
1722
Edition
Third
Language
English
Volumes
2 volume set
Pages
{{{pages}}}
Desc.
Folio (34 cm.)
Location
Shelf A-5
 
[[Shelf {{{shelf2}}}]]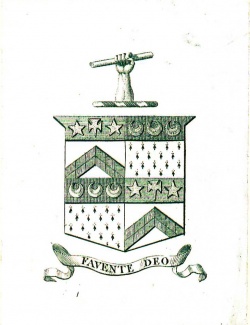 Dr. John Tillotson (1630-1694) was born in Yorkshire and educated at the University of Cambridge.[1] Brought up in a Puritan household, Tillotson abandoned the Calvinism of his father fairly early in adulthood. He was a devout Protestant who opposed Catholicism but regarded non-conformist Protestants sympathetically.[2] During his career he served in multiple positions, including chaplain to Charles II, dean of Canterbury, canon of St. Paul's Cathedral, dean of St. Paul's Cathedral, and finally Archbishop of Canterbury.[3]

The Works of the Most Reverend Dr. John Tillotson] (1630-1694) contains two hundred of his sermons, discourses, and prayers.[4]Tillotson was very influential amongst his colleagues; sermons by Laurence Sterne, James Woodforde, and others borrowed heavily from his works.[5] Some clergyman went so far as to directly present Tillotson's sermons in lieu of their own.[6] He was even cited in dictionaries, with one particular lexicographer citing his works over one thousand times.[7]
Evidence for Inclusion in Wythe's Library
Listed in the Jefferson Inventory of Wythe's Library as "Tillotson's works. 2.v. fol." and given by Thomas Jefferson to his son-in-law, Thomas Mann Randolph. Later appears on Randolph's 1832 estate inventory as "'Tillotson's discourses' (6[?] vols., $6.00 value)." We do not have enough information to conclusively identify which edition Wythe owned. George Wythe's Library[8] on LibraryThing indicates this, adding "Two-volume folio editions were published at London in 1712, 1717, and 1722." The Brown Bibliography[9] lists the first (1712) edition published in London. Because we do not know which edition Wythe owned, and because not all editions were available for purchase, the Wolf Law Library acquired a copy of the third (1722) edition.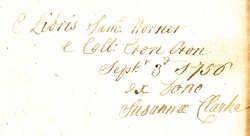 Description of the Wolf Law Library's copy
Bound in full tan leather with five raised bands, decoration and gilt lettering to spines. Each volume contains an unnamed armorial bookplate with the motto "Favente Deo" (with God's favor) on the front pastedown. Volume one includes the inscription "E libris Saml. Horner, e Coll. Eton(?) Oxon, Septr. 3d 1756, ex bono, Susanna Clarke" on the front flyleaf. Purchased from Ely Books.
Images of the library's copy of this book are available on Flickr. View the record for this book in William & Mary's online catalog.
See also
References
External Links
Read this book in Google Books.