The Works of That Learned and Judicious Divine, Mr. Richard Hooker
From Wythepedia: The George Wythe Encyclopedia
by Richard Hooker
The Works of That Learned and Judicious Divine, Mr. Richard Hooker: in Eight Books of the Laws of Ecclesiastical Polity

Title page from The Works of That Learned and Judicious Divine, Mr. Richard Hooker: in Eight Books of the Laws of Ecclesiastical Polity, George Wythe Collection, Wolf Law Library, College of William & Mary.

Author
Richard Hooker
Editor
{{{editor}}}
Translator
{{{trans}}}
Published
London: Printed for John Walthoe, George Conyers, James Knapton, Robert Knoplock, J. and B. Sprint . . . [and 9 others]
Date
1723
Edition
{{{edition}}}
Language
English
Volumes
{{{set}}} volume set
Pages
{{{pages}}}
Desc.
{{{desc}}}
Location
[[Shelf {{{shelf}}}]]
 
[[Shelf {{{shelf2}}}]]
Listed in the Jefferson Inventory of Wythe's Library as Hooker's Ecclesiastical polity. fol. and given by Thomas Jefferson to his son-in-law, Thomas Mann Randolph. We do not have enough information to conclusively identify which edition Wythe owned. George Wythe's Library[1] on LibraryThing indicates this without naming a specific edition. The Brown Bibliography[2] lists the 1723 edition from London based on the copy Jefferson sold to the Library of Congress.[3] The Wolf Law Library followed Brown's suggestion and purchased the London 1723 edition.
Description of the Wolf Law Library's copy
Bound in contemporary Cambridge-style panelled calf, newly rebacked. Signed: "F.H. Thornton, Oct. 1912." Includes bookplate of Edward Thornton.
View this book in William & Mary's online catalog.
External Links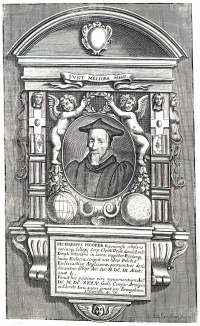 References
↑ LibraryThing, s. v. "Member: George Wythe," accessed on November 13, 2013, http://www.librarything.com/profile/GeorgeWythe
↑ Bennie Brown, "The Library of George Wythe of Williamsburg and Richmond," (unpublished manuscript, May, 2012) Microsoft Word file. Earlier edition available at: https://digitalarchive.wm.edu/handle/10288/13433
↑ E. Millicent Sowerby, ""Catalogue of the Library of Thomas Jefferson 2nd ed. (Charlottesville: University Press of Virginia, 1983), 3:14-15. [no.2334]