The Works of Francis Rabelais
From Wythepedia: The George Wythe Encyclopedia
by François Rabelais
The Works of Francis Rabelais

Title page from The Works of Francis Rabelais, volume three, George Wythe Collection, Wolf Law Library, College of William & Mary.

Author
François Rabelais
Editor
Peter Anthony Motteux
Translator
Sir Thomas Urquhart
Published
London: Printed by J. Hughs for J. Brindley and C. Corbett
Date
1737
Edition
{{{edition}}}
Language
English
Volumes
5 volume set
Pages
{{{pages}}}
Desc.
12mo (17 cm.)
Location
Shelf L-4
 
[[Shelf {{{shelf2}}}]]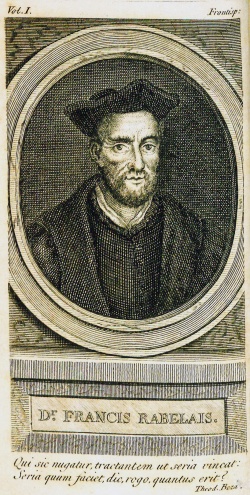 François Rabelais (c. 1495-1553) was a physician, priest, and notable writer[1] who was well studied in the classics.[2] Around 1521, Rabelais became a priest, but broke his vows in 1530 to study medicine.[3] He was one of the first, if not the first, physicians to dissect the human body.[4] In 1532 he became head physician at a hospital in Lyons, and he began to write.[5]

Rabelais' works are famous for their bawdy, satirical nature.[6] His style is so distinct, the Oxford English Dictionary includes the adjective "Rabelaisian" to describe writings with "earthy humour, [a] parody of medieval learning and literature, and [an] affirmation of humanist values."[7]

Rabelais' most famous works are the Gargantua-Pantagruel series, four books published from 1532 to 1535.[8] Framed as chivalric romances, they use the theatrical language of vaudeville to satirize heroic works, traditional pedagogy, and humanist ideals.[9] He grotesquely caricatured people in a playful way, in a style extensively imitated by seventeenth and eighteenth century French writers.[10]
Evidence for Inclusion in Wythe's Library
Listed in the Jefferson Inventory of Wythe's Library as Rabelais. 5.v. 12mo. 2d. wanting and given by Thomas Jefferson to his son-in-law, Thomas Mann Randolph. Later appears on Randolph's 1832 estate inventory as "'Rabellais Works' (4 vols., $2.12 1/2 value)." We do not have enough information to conclusively identify which edition Wythe owned. George Wythe's Library[11] on LibraryThing indicates this, adding "English translations in five volumes were published at London in 1737, 1738, and 1750." The Brown Bibliography[12] lists the 1750 edition based on the copy Jefferson sold to the Library of Congress.[13] The Wolf Law Library purchased the 1750 edition.
Description of the Wolf Law Library's copy
Bound in contemporary full calf bindings, blind tooled and gold ruled. Purchased from Book Den East.
Images of the library's copy of this book are available on Flickr. View the record for this book in William & Mary's online catalog.
See also
References