The Works of Flavius Josephus
From Wythepedia: The George Wythe Encyclopedia
by Flavius Josephus
The Works of Flavius Josephus

Title page from The Works of Flavius Josephus, George Wythe Collection, Wolf Law Library, College of William & Mary.

Author
Flavius Josephus
Editor
{{{editor}}}
Translator
Sir Roger L'Estrange
Published
London: Printed for Richard Sare ...
Date
1702
Edition
First of this translation
Language
English
Volumes
{{{set}}} volume set
Pages
[6], 18, 1130 [i.e. 942]
Desc.
Folio (41 cm.)
Location
Shelf B-5
 
[[Shelf {{{shelf2}}}]]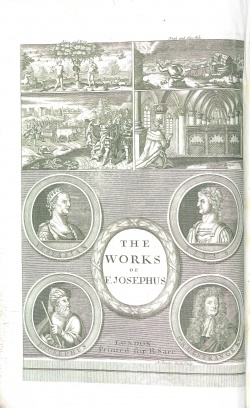 Flavius Josephus
, born Joseph ben Matityahu in Jerusalem, lived from 37 to c. 100 C.E. and wrote his histories and autobiography in Greek, quite possibly to reach the upper social classes and lessen their prejudices against the Jewish people. He began writing around 66 C.E., with his
book
on the
Jewish War
, and finished around 90 C.E., with his autobiography.
[1]
Perhaps the most famous of Josephus' works is the
Jewish Antiquities'
, which contains his account of Jewish history, beginning with the creation story and ultimately discussing Jesus and the Christians who were the contemporaries of Josephus.
[2]

The Works of Flavius Josephus is a collection of manuscripts that detail ancient Jewish history and culture.[3] The rise in Protestant Christianity during the eighteenth century would have made such a collection very significant.[4] Christians valued the works of Josephus because of the historical information about Christ and the apostles.[5] Many felt that they provided proof of Christian doctrines.[6]
Evidence for Inclusion in Wythe's Library
Listed in the Jefferson Inventory of Wythe's Library as "Josephus. by Lestrange. fol." and given by Thomas Jefferson to his son-in-law, Thomas Mann Randolph. Later appears on Randolph's 1832 estate inventory as L'Estranges Josephus' ($2.00 value). We do not have enough information to conclusively identify which edition Wythe owned. George Wythe's Library[7] on LibraryThing indicates this, adding "Numerous editions of this translation in folio were published, the first in 1702." The Brown Bibliography[8] lists the 1724 edition published in London. The Wolf Law Library purchased the London 1702 edition because we located a copy and because we prefer to purchase the first edition, in this case the first folio edition, when the actual edition owned by Wythe is unknown.
Description of the Wolf Law Library's copy
Contemporary panelled calf rebacked with original spine laid down. Purchased from Barnaby Rudge Booksellers.

Images of the library's copy of this book are available on Flickr. View the record for this book in William & Mary's online catalog.
See also
References