The Works of Dr. Jonathan Swift
From Wythepedia: The George Wythe Encyclopedia
The Works of Dr. Jonathan Swift, Dean of St. Patrick's, Dublin with the Author's Life and Character, Notes Historical, Critical and Explanatory, Tables of Contents and Indexes More Complete than any Preceding Editions: in Thirteen Volumes Accurately Corrected by the Best Editions
by Jonathan Swift
The Works of Dr. Jonathan Swift

Title page from The Works of Dr. Jonathan Swift, volume one, George Wythe Collection, Wolf Law Library, College of William & Mary.

Author
Jonathan Swift
Editor
{{{editor}}}
Translator
{{{trans}}}
Published
Edinburgh: Printed for A. Donaldson and sold at his shop in London, and at Edinburgh
Date
1768
Edition
{{{edition}}}
Language
English
Volumes
13 volume set
Pages
{{{pages}}}
Desc.
12mo (18 cm.)
Location
[[Shelf {{{shelf}}}]]
 
[[Shelf {{{shelf2}}}]]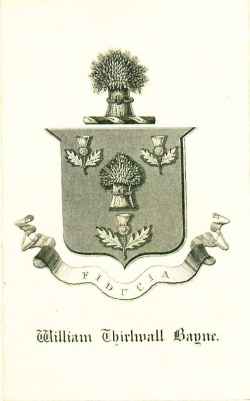 Jonathan Swift (1667-1745) rose out of a disadvantaged upbringing in Ireland to a position of intellectual superiority.[1] In 1696 he published his first book, A Tale of the Tub, under the patronage of Sir William Temple.[2] Swift continued to write poetry and critical essays, and rose in both Irish and English intellectual circles until he was exiled from England because of his defense of the Oxford–Bolingbroke ministry and permanently returned to Ireland in 1714.[3]

After his return to Ireland, Swift rebelled against colonialism and began to write about politics and social injustice. During this time he wrote A Modest Proposal, which criticizes abusive church practices, and numerous essays about the abysmal conditions of the overpopulating poor. In this famous satire, Swift put suggested the wealthy should eat the children of the poor to solve social problems.

Swift is best known for his satire Gulliver's Travels (1726), where he displays his liberal attitude, idealism, and belief in social reform governed by reason and justice. Instead of commenting on individuals or contemporary social movements, Swift imaginatively discusses the flaws of human nature and general concepts of morality.[4]


Evidence for Inclusion in Wythe's Library
Listed in the Jefferson Inventory of Wythe's Library as "Swift's works. 13.v. 12mo." This was one of the titles kept by Thomas Jefferson. Jefferson sold a set of Swift's works to the Library of Congress in 1815, but the volumes were missing as early as 1815. Nothing indicates an edition or Wythe's prior ownership.[5] Both George Wythe's Library[6] on LibraryThing and the Brown Bibliography[7] include the 1768 London edition of The Works of Dr. Jonathan Swift. LibraryThing adds "A reissue of this work was published in 1774, but Wythe's copy was almost certainly an original issue." The Wolf Law Library followed the recommendations of Brown and LibraryThing and purchased a copy of the 1768 edition for the George Wythe Collection.

Description of the Wolf Law Library's copy
Bound in contemporary full brown calf, spines decoratively tooled in gilt in compartments in a floral design, dark brown gilt morocco lettering labels and five raised bands (all ruled in gilt). Includes signature of "K. W. Greathead" and the bookplate of William Thirlwall Bayne with the motto "Fiducia" (Trust) on the front pastedown of each volume except volume two. Purchased from Dragon Books.
View this book in William & Mary's online catalog.
References