The Works of Abraham Cowley
From Wythepedia: The George Wythe Encyclopedia
The Works of Abraham Cowley: Consisting of Those Which Were Formerly Printed and Those Which He Design'd for the Press, Now Published Out of the Authors Original Copies
by Abraham Cowley
The Works of Abraham Cowley

Title page from The Works of Abraham Cowley, George Wythe Collection, Wolf Law Library, College of William & Mary.

Author
Abraham Cowley
Editor
{{{editor}}}
Translator
{{{trans}}}
Published
London: Printed by J.M. for H. Herringman
Date
1678
Edition
Fifth
Language
English
Volumes
{{{set}}} volume set
Pages
558
Desc.
Folio (31 cm.)
Location
[[Shelf {{{shelf}}}]]
 
[[Shelf {{{shelf2}}}]]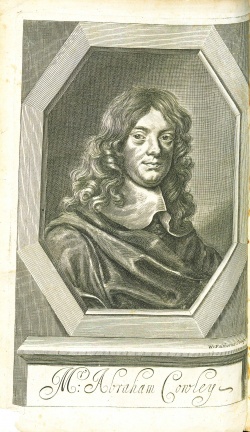 Abraham Cowley
(1618-1667) was a poet who began to publish when he was only twelve, as he was enamored with the romantic ideals and artistry possible in poetry.
[1]
He was a strong royalist, and one of his most famous and controversial works is an epic poem on the history of the English Civil War written from a decidedly royalist slant.
[2]
Cowley wrote poetry on love, virtue, and to praise contemporaries after they died, all of which expressed his pure and strong character.
[3]

The Works of Abraham Cowley was the first folio compilation of Cowley's work to be published under the supervision of the executor of his literary works in 1668. The poems and essays in this edition greatly impacted seventeenth century poetry, with fourteen printings of the folio between 1668 and 1721.[4] He was highly praised during this time because of his inclusion of classical formal elements in his poetry that influenced the style of Romantic poets.[5]

Evidence for Inclusion in Wythe's Library
Listed in the Jefferson Inventory of Wythe's Library as Cowley's works. fol. This was one of the titles kept by Thomas Jefferson and may have been sold to the Library of Congress in 1815. Jefferson did sell a copy of Cowley's works to the Library of Congress but the volume no longer exists to verify its edition or Wythe's prior ownership. George Wythe's Library[6] on LibraryThing indicates "Precise edition unknown. Several folio editions were published." The Brown Bibliography[7] includes the fifth edition (1658) based on Millicent Sowerby's use of that edition in Catalogue of the Library of Thomas Jefferson.[8] The Wolf Law Library followed Brown's recommendation and purchased a copy of the fifth edition for the George Wythe Collection.
Description of the Wolf Law Library's copy
Bound in full leather with raised bands and gold and black impressing. Purchased from Attic Books.
View this book in William & Mary's online catalog.
References