Ward v. Webber
From Wythepedia: The George Wythe Encyclopedia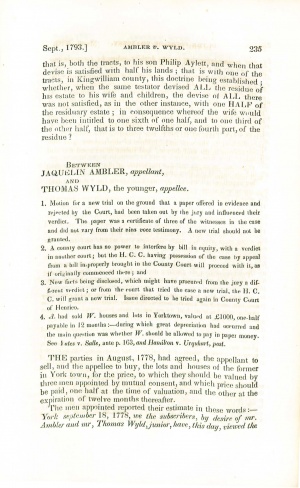 Ward v. Webber, 1 Va. (1 Wash.) 274 (1794),[1] was case about a dower dispute.
Background
Webber and his wife sued Webber's father-in-law in the High Court of Chancery. The petition claimed that in 1754, while Mrs. Webber was still single, her father had conveyed to her several tracts of land, 16 slaves, and all the furniture and stocks of those plantations. Prior to creating the deed, Mrs. Webber's father had promised that if his daughter should marry to please him, he would give her the greater part of his estate. Webber argues that as a consequence of the promises, he courted Mrs. Webber and married her. He further contends that the father executed the deed as promised but secretly cancelled the deed. Mr. Webber and his wife asked the court to grant equity and provide the couple with the property promised in the initial deed. After the father-in-law died, the couple brought the suit again against Ward, an executor of the father-in-law's estate.
The Court's Decision
Chancellor Wythe dismissed the executor's motion for summary judgment and found in favor of Webber and his wife. The Court of Appeals affirmed.
See also
References
↑ Bushrod Washington, Reports of Cases Argued and Determined in the Court of Appeals of Virginia, (Richmond: T. Nicolson, 1798), 1:274.