The Tragedies of Euripides
From Wythepedia: The George Wythe Encyclopedia
by Euripides
The Tragedies of Euripides

Title page from The Tragedies of Euripides, volume one, George Wythe Collection, Wolf Law Library, College of William & Mary.

Author
Euripides
Editor
{{{editor}}}
Translator
Robert Potter
Published
London: Printed for J. Dodsley, Pall-Mall
Date
1781-1783
Edition
{{{edition}}}
Language
English
Volumes
2 volume set
Pages
{{{pages}}}
Desc.
4to (29 cm.)
Location
Shelf H-2
 
[[Shelf {{{shelf2}}}]]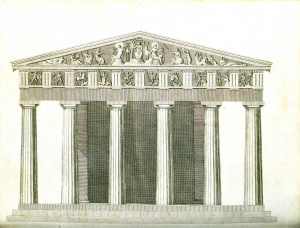 Euripides
was an Athenian tragic poet/playwright who lived from c. 485 to 406 BCE. He was the youngest of the three great Athenian tragedians, the other two being Aeschylus and Sophocles.
[1]
Little is known about Euripides' life, though we do know that he was interested in the human mind. He associated with sophists such as Anaxagoras, Socrates and Protagoras, and disregarded the temptation of using his fame to become a prominent political player in Athens.
[2]
Euripides won just four victories at the famous Dionysia theater competition, ranking him much lower than Aeschylus and Sophocles, with 13 and 18 victories respectively.
[3]
However, more than twice the number of Euripides' plays have survived to modern times than those of Aeschylus or Sophocles.
[4]
Euripides allegedly wrote 92 plays, 80 for which titles are known, and 19 of which are extant.[5] Extreme emotions and unorthodox events are prevalent in Euripides' writing, often shown through the use of the Chorus. His characters battle societal pressures, torturous situations, and inner conflicts, highlighting "his awareness that personality is inherently a fragmented thing, different aspects being displayed at different times."[6] Toward the end of his life, Euripides' plays became less tragic, and the importance of the Chorus and the prevalence of songs decreased.[7]
This collection of Euripides' tragic plays is in two volumes containing all of his eighteen extant tragedies. The first volume includes The Bacchae, Ion, Alcestis, Medea, The Phoenician Virgins, Hippolytus, The Suppliants, Hercules, and The Heraclidae. The second includes Iphigenia in Aulis, Rhesus, The Trojan Dames (The Trojan Women), Hecuba, Helena, Electra, Orestes, Iphigenia in Tauris, and Andromache. The only extant work excluded is Cyclops, a satyr play.
Evidence for Inclusion in Wythe's Library
Listed in the Jefferson Inventory of Wythe's Library as "Potter's Euripides. 2.v. 4to." This was one of the sets kept by Thomas Jefferson. He later sold a copy of "Euripides, Eng. by Potter" to the Library of Congress in 1815, but it no longer exists to verify Wythe's prior ownership.[8] Both the Brown Bibliography[9] and George Wythe's Library[10] on LibraryThing include the London 1781-1783 edition based on E. Millicent Sowerby's inclusion of that edition in Catalogue of the Library of Thomas Jefferson. The Wolf Law Library purchased a copy of the same edition.
Description of the Wolf Law Library's copy
Bound in contemporary speckled calf with flat spines with red morocco lettering pieces. Purchased from Blackwell Rare Books.
Images of the library's copy of this book are available on Flickr. View the record for this book in William & Mary's online catalog.
See also
References
External Links
Read volume two of this book at Hathi Books.