Tibulli Et Propertii Opera
From Wythepedia: The George Wythe Encyclopedia
by Tibullus and Propertius
Tibulli Et Propertii Opera

Title page from Tibulli Et Propertii Opera, George Wythe Collection, Wolf Law Library, College of William & Mary.

Author
Tibullus and Propertius
Editor
{{{editor}}}
Translator
{{{trans}}}
Published
Glasguae: Excudebant Robertus & Andreas Foulis
Date
1753
Edition
Ex Editione J. Broukhusii Fideliter Expressa
Language
Latin
Volumes
{{{set}}} volume set
Pages
[4], xvii, [1], 63, [1], xxv, [1], 126, [2]
Desc.
8vo (17 cm.)
Location
Shelf L-2
 
[[Shelf {{{shelf2}}}]]
This work contains the poems of the Roman elegiac poets Tibullus and Propertius.
Tibullus was born between 55 and 48 BCE and died in 19 BCE.[1] He was an equestrian who socialized with the poetical circle around Messalla, with whom he traveled to the East sometime around 30 BCE. Their trip was cut short due to illness, after which Tibullus may have served under Messala in Gaul. There are three extant books of love-poems connected to Tibullus, though only the first two are actually his work – the third being the works of other poets in Messala's circle.[2]
Propertius was born in Assissi around 50 BCE and died between 16 and 2 BCE.[3] He received a Roman education in law, but instead pursued poetry, with four extant books of elegies. Propertius belonged to a small group of poets that included Ovid, and his first book's success allowed him entrance into the larger group of Maecenas. Propertius is best known as a love-poet, though his books do contain a variety of themes and subjects. His works are difficult to interpret due to corruptions of the original text, compounded by his "intense visual imagination" which forces readers to understand the implications of a poem's setting before being able to decipher Propertius's passionate train of thought.[4]
Both Tibullus and Propertius believed that love is the true goal and occupation of life.[5] Similarly, they both represented themselves as enslaved by their lovers, though Tibullus is more specific regarding his "enslavement" than Propertius. One key difference between the two poets is that Tibullus rarely uses mythology, while Propertius makes heavy use of it.[6] Also, one of Tibullus' favorite themes concerns the pleasure of country life, as opposed to Propertius' urban settings.[7]
Evidence for Inclusion in Wythe's Library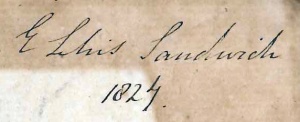 Listed in the Jefferson Inventory of Wythe's Library as Tibullus et Propertius. 12mo. Foul. This was one of the titles kept by Thomas Jefferson. The Foulis Press printed one version of the works of Tibullus and Propertius, Tibulli Et Propertii Opera, in 1753.[8] Jefferson sold a copy of the same edition to the Library of Congress in 1815.[9] Both George Wythe's Library[10] on LibraryThing and the Brown Bibliography[11] list the Library of Congress copy as Wythe's volume. Jefferson's copy no longer exists to conclusively verify Wythe's prior ownership. The Wolf Law Library purchased a copy of the Foulis 1753 edition.
Description of the Wolf Law Library's copy
Bound in contemporary calf with raised bands, gilt compartments, and red morocco label with gilt lettering. Includes the inscription "E Libris Sandwich, 1827" on the front free endpaper. Purchased from G.W. Stuart, Jr.
Images of the library's copy of this book are available on Flickr. View the record for this book in William & Mary's online catalog.
See also
References
External Links
View the record for this book in Google Books.