Thoukydidou peri tou Peloponnēsiakou Polemou Biblia Oktō = Thucydidis de Bello Peloponnesiaco Libri Octo
From Wythepedia: The George Wythe Encyclopedia
by Thucydides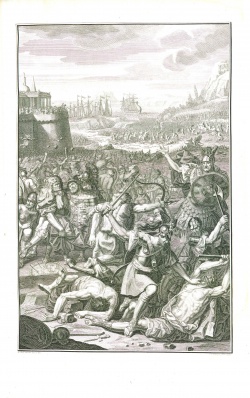 Thucydides
(c. 460 BCE–c. 395 BCE) has gone down in history as one of the great ancient historians, despite the fact that (possibly because) he wrote only one book:
History of the Peloponnesian War
.
[1]
The
History
consists of eight books, roughly divided into five parts or themes that cover
the war between Athens and Sparta
(431-404 BCE) until the winter of 411/410 BCE. Continuations by other historians to complete Thucydides' history of the war are now lost, and the original portions of the eight books are also not complete.
[2]

Thucydides intended his history to be used as instructive and accurate record of what he viewed as the most important war in Greek history. In 424 BCE, as a general or strategos, Thucydides failed to save the valuable Athenian colony of Amphipolis from Spartan attack. As a result, he was exiled and did not return to Athens until 404 BCE. His absence for most of the Peloponnesian War inspired him "to gain first-hand information from both sides and to have a clearer perspective."[3] Though Thucydides strived for "exactness," he also used a great many speeches in his history, and admitted that it was near impossible to have fully accurate speeches. In these situations, Thucydides allowed himself to trust his "historical imagination" in order to dramatically demonstrate "the workings of men's minds and the impact of circumstance." [4] His focus on accuracy is seen through the lack of divine explanations for any events, but his impartiality has been questioned, especially in reference to his favorable view of Pericles and unjustifiably negative depiction of Cleon. Overall, the serious nature of the writing illuminates Thucydides' focus on historical fact and analysis.[5]
Evidence for Inclusion in Wythe's Library
Listed in the Jefferson Inventory of Wythe's Library as [Th]ucydides Gr. Lat. notis variorum. Dukeri fol. This was one of the titles kept by Thomas Jefferson and later sold to the Library of Congress in 1815. Both George Wythe's Library[6] on LibraryThing and the Brown Bibliography[7] list the 1731 edition published in Amsterdam. This is also the edition Millicent Sowerby's included in Catalogue of the Library of Thomas Jefferson,[8] but, Jefferson's copy no longer exists. The Wolf Law Library chose to add the edition suggested by Sowerby, Brown, and LibraryThing.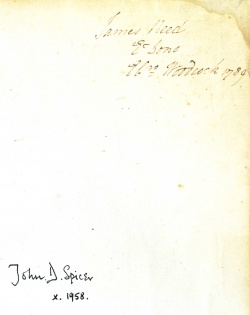 Description of the Wolf Law Library's copy
Bound in contemporary blind-stamped Dutch vellum with spine lettered in ink. Includes signature of "John D. Spicer, 1958" and the inscription "James Reed ex bono E.C.(?) Woodcock, 1789." Purchased from Blackwell's Rare Books.
Images of the library's copy of this book are available on Flickr. View the record for this book in William & Mary's online catalog.
See also
References
External Links
Read this book in Google Books.