Thomas Greenough to Wythe et al, 8 June 1776
From Wythepedia: The George Wythe Encyclopedia
Page 1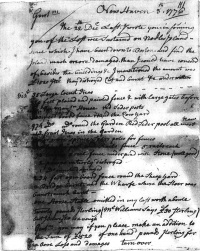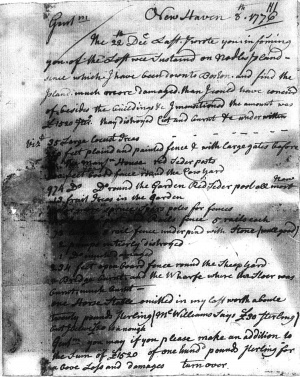 New Haven 8th 1776
Gent.
    The 22nd Dec. last, I wrote you informing you of the [?] on [?] which I have been [?] to Bost, and find the Island much more damaged than I could have [?] of, besides the buildings &c, I mentioned the amount was £1520. They [?] and Count &c and or written
Viz. 35 Large [?]
22 feet plaind and painted fence & with [Cargegates?] before the manse House [?] posts

[?] feet good fence round the [?] yard.
974 D D round the Garden Red [Leder?] post all now most
13 frail [?] in the Garden
40 [?] more [?] poles for fences
15 [?] Rails fence 5 rails each
73 [?] 3 rail fence underpind with Stone (wall good)
2 pumps intirely distroyed
1 D[?] damaged
234 feet open Goard fence round the Sheep yard
2 [?] burnt and the Wharfe where the [?] was burnt, much burnt.
One Hourse Stable emitted in my last worth aboute twenty pounds Sterling/McWilliams Says £30 Sterling/ but I belive £20 is anough
Gentm., you may if you please make an addition to the Sum of £1520 of one hund. Pounds Sterling for above Loss and damages         turn over.

Page 2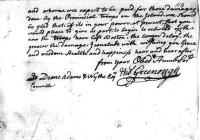 and whereas we expect to be paid for those damages done by the Provisional troops on the Island, we should be glad that if its in your pwer at present that you would please to give us part to begin to rebuild with now the troops, have left Boston. The longer delayd, the greater the damage. I condclude with wishing you Grace and wisdom Health and happiness hear and hear after
                                  from your Obed. Humb. Servt.
                                       Thos. Greenough
To Deane Adams & Wythe Esq
Committee

Page 3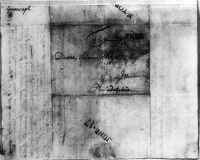 Greenough
                             To
Deane, Adams, & Wythe Esqs.
                        In
         Philadelphia