Thomas Greenough to Wythe, John Adams, & Silas Deane, 22 December 1775
From Wythepedia: The George Wythe Encyclopedia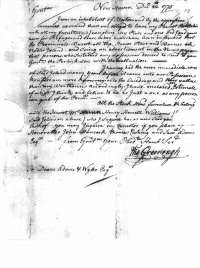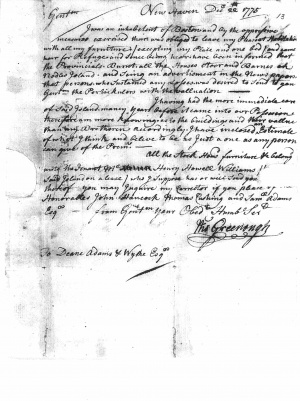 Gent.                                   New Haven Dec. 22 1775
    I was an inhabitant of Boston and by the oppressive measures exercised there was obliged to leave my Pleasant Habitation with all my furniture. Excepting my Plate and one bed and came hear for Refuge and Since remg. hear have been informed that the Provincials Burnt all the Houses Stoor and Barnes on Nodles Island. And seeing an advertisement in the Newspapers, that person who sustained any losses was desired to send to you Gent. the Partickulers with the evaluation. –
    I having had the more immediate care of Said Island many years before it came into our Possession therefore am more knowing as to the buildings and their vallue than my Bretheren according by I have inclosed an Estimate of what I think and believe to be as Just a one as any person can give of the Prem.
    All the Stock House furniture &c belonged unto the Tenant Mr. Henry Howell Williams, said Island an a lease/ who suppose has or will send you thereof you may Inquire my Corrector if you please Honorables John Hancock Memas Cushing and I am I am Adams Esq. from Gent. Your Obed. Humb. Ser.
                                  Mr. Greenough
To Deane Adams & Wythe Esq.