Ta tou Theokritou Sesomena = Theocriti Quae Extant
From Wythepedia: The George Wythe Encyclopedia
by Theocritus
The Works of Theocritus

Title page from Ta tou Theokritou Sesomena = Theocriti Quae Extant, George Wythe Collection, Wolf Law Library, College of William & Mary.

Author
Theocritus
Editor
{{{editor}}}
Translator
{{{trans}}}
Published
Glasguae: In aedibus academicis excudebant Robertus et Andreas Foulis
Date
1746
Edition
{{{edition}}}
Language
Greek
Volumes
{{{set}}} volume set
Pages
[12], 192
Desc.
8vo (21 cm.)
Location
Shelf I-4
 
[[Shelf {{{shelf2}}}]]
Theocritus was a Hellenistic Greek poet who lived in the first half of the third century BCE in Syracuse, on the island of Sicily.[1] It is possible that Theocritus lived in south Italy for part of his life, and that he visited Alexandria, Egypt during the reign of Ptolemy II Philadelphus.[2] Several of Theocritus' poems are set in Alexandria and directly reference Ptolemy's palace and life under his rule, specifically poems 15 and 17.[3]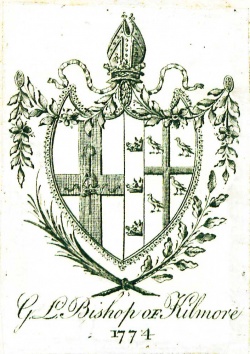 Theocritus invented the genre of pastoral or bucolic poetry that focused on artfully simplistic depictions of herdsmen singing of "themselves, their loves and quarrels."[4] Due to the relatively limited subject matter, bucolic poetry became used for allegorical comments on society and politics around the time of Virgil.[5] Theocritus' extant works include thirty poems, several fragments of poems, and twenty-four epigrams, though the authenticity of all of them is doubtful.[6]
Evidence for Inclusion in Wythe's Library
Listed in the Jefferson Inventory of Wythe's Library as Theocritus Gr. Lat. 4to. Foul. and given by Thomas Jefferson to his grandson Thomas Jefferson Randolph. Both George Wythe's Library[7] on LibraryThing and the Brown Bibliography[8] list the 1746 edition published by Foulis, and this is the edition the Wolf Law Library purchased.
Description of the Wolf Law Library's copy
Small quarto bound in contemporary calf, rebacked to style, black calf label. Contains the engraved armorial bookplate of the G. L., Bishop of Kilmore, dated 1774 on the front pastedown. Former owner signatures of "W. Ross King, 1842" and "Angela Cambitzi, 1942" are on the front free endpaper. Purchased from Michael R. Thompson Books.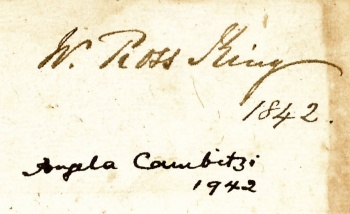 Images of the library's copy of this book are available on Flickr. View the record for this book in William & Mary's online catalog.
See also
References