Style's Practical Register
From Wythepedia: The George Wythe Encyclopedia
Style's Practical Register: Begun in the Reign of King Charles I Consisting of Rules, Orders, and the Principal Observations Concerning the Practice of The Common Law in the Courts at Westminster: Particularly the King's Bench, as Well in Matters Criminal as Civil: Carefully Continued Down to this Time from Modern Reports: Alphabetically Digested Under Several Titles: with a Table for the Ready Finding Out of Those Titles
by William Style
Style's Practical Register

Title page from Style's Practical Register, George Wythe Collection, Wolf Law Library, College of William & Mary.

Author
William Style
Editor
{{{editor}}}
Translator
{{{trans}}}
Published
London: Printed for C. Harper, D. Brown, J. Walthoe and D. Midwinter
Date
1707
Edition
Fourth, with large additions
Language
English
Volumes
{{{set}}} volume set
Pages
682
Desc.
8vo (20 cm.)
Location
[[Shelf {{{shelf}}}]]
 
[[Shelf {{{shelf2}}}]]
William Style (c.1599–1679) was admitted to the Inner Temple in 1619, and was called to the bar in 1628. He does not appear to have been an overly successful lawyer and is better remembered for his legal publications.[1] His Practical Register, first published in 1657, "groups the rules of practice, together with a little information as to the substantive law, under alphabetical heads."[2] It "was a useful guide to modern practice decisions"[3] and was reprinted multiple times.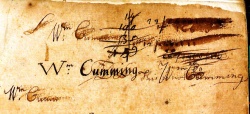 Evidence for Inclusion in Wythe's Library
Both Dean's Memo[4] and the Brown Bibliography[5] include William Style's Practical Registerbased on Alan Smith's assertion that Jefferson cites the work in his commonplace book.[6] Dean lists the 1657 edition while Brown suggests the fourth edition (1707) based on the copy Thomas Jefferson sold to the Library of Congress in 1815.[7] Notably, Brown's study of Jefferson's commonplace books revealed no references to the Style's Practical Register, making its inclusion in Wythe's Library questionable. Despite the inconclusive evidence, the Wolf Law Library added a copy of the fourth edition to the George Wythe Collection.
Description of the Wolf Law Library's copy
Bound with later calf retaining original boards, raised bands, gilt title and date on spine. Includes signature, "Wm. Cumming" and annotations to preliminaries. Purchased from The Lawbook Exchange, Ltd.

View this book in William & Mary's online catalog.
References