Sandys Travels
From Wythepedia: The George Wythe Encyclopedia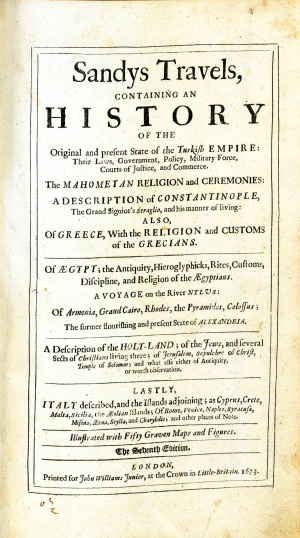 by George Sandys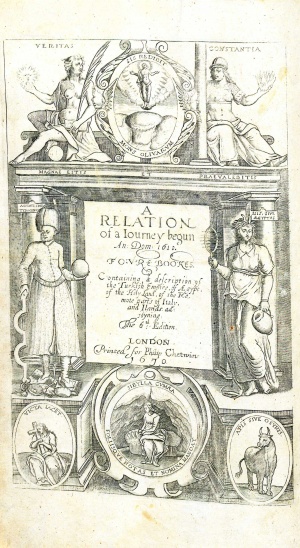 George Sandys (1578-1644), writer and official of colonial Virginia, was an Oxford educated man whose interest lay in poetry and traveling.[1] His English translation of Ovid's epic poem Metamorphoses featured the heroic couplet form, a style that would become Sandys' signature.[2] Instead of graduating from Oxford, Sandys opted to travel from France to Egypt and Turkey, documenting his experiences and encounters. He dedicated his works to Prince (later, King) Charles. Sandy's Travels contained an account of the author's travels through Turkey and the Middle East and offered a window into a world foreign to many of the intellectuals who read Sandys, including Francis Bacon, Robert Burton, and John Milton.[3]

Appointed first treasurer of Virginia and member of the council of state in Virgina, Sandys embarked for America and arrived in Jamestown in October, 1621.[4] Sandys remained in the colonies until 1625 as a member of Virginia Governor Sir Francis Wyatt's council, bringing accounts of his experiences in Eastern Europe and the Middle East to a new audience.[5] A plaque to his memory adorns the side of the chapel on Jamestown Island.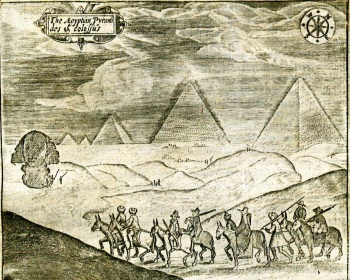 Bibliographic Information
Author: George Sandys.
Title: Sandys Travels, Containing an History of the Original and Present State of the Turkish Empire ... the Mahometan Religion and Ceremonies: a Description Of Constantinople ... Also, of Greece ... of Aegypt ... a Voyage on the River Nylvs ... a Description of the Holy-Land; of the Jews ... and What Else Either of Antiquity, or Worth Observation. Lastly, Italy Described, and the Islands Adjoining ... Illustrated with Fifty Graven Maps and Figures.
Publication Info: London: Printed for J. Williams, Junior, 1673.
Edition: Seventh edition.
Evidence for Inclusion in Wythe's Library
Description of the Wolf Law Library's copy
Bound in modern half calf with engraved title-page. Purchased from Liberia Antiquaria Piemontese.
View this book in William & Mary's online catalog.
References