Samuel Huntington to Wythe et al., 2 February 1780
From Wythepedia: The George Wythe Encyclopedia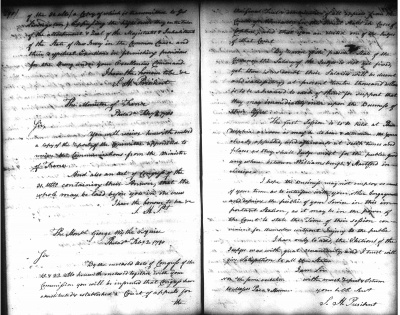 The Honble. George Wythe Esquire

        Philad. Feby. 2. 1780

Sir

        By the enclosed Acts of Congress of the 15. & 22. Ulto herewith enclosed together with your Commission you will be informed that Congress have constituted & established a Court of appeals for the final Trial & determination of all appeals from the Courts of Admiralty in the Several States in Cases of Capture and that you are elected one of the Judges of that Court.


        By reason of the present State of the Currency the Salary of the Judges is not yet fixed, yet there is no doubt their Salaries will be decent and satisfactory at present twelve thousand dollars is to be advanced to each of them for support that they may immediately enter upon the Business of their Office.


        The first Session is to be held at Philadelphia as soon as may be to hear & determine the Case already appealed, and afterwards at such times and places as they shall Judge most for the public good any where between Williamsburgh & Hartford inclusive.


        I hope the Business may not employ so much of your time as to interfere with your other Engagements and deprive the public of your Service in this important Station, as it may be in the power of the Court to state the Time of their Session convenient for themselves without Injury to the public.


        I have only to add, the Election of the Judges was with great unanimity, and I trust will give Satisfaction to all the States.

                        I am Sir
                        with much Respect & Esteem
                        Your hble. Servt.
                             S.H. President
NB. The same verbatim to Messers Paca & Hosmer.

See also
Wythe to Samuel Huntington, 21 February 1780